Tartuffe
Molière
Central Line Touring
Lichfield Garrick Studio and touring
(2006)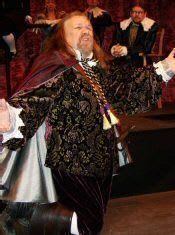 Many years ago - more than I care to admit - I studied Tartuffe in the original French at A-level. Back then I struggled to appreciate the finer points of Molière's diatribe against religious hypocrisy. Now I realise what I was missing in the sixth form: Tartuffe is a cracking play, well written with a clever structure and a wide range of diverse characters.
Central Line Touring, who sold out the Garrick studio last year with The Beaux' Stratagem, are back in the venue with an ensemble piece that allows them to display their assorted talents while at the same time stretching their abilities both individually and collectively.
Tartuffe is set in Paris in the 17th century and is the comic tale of how the rich and gullible Orgon takes in at first glance the extremely devout man of religion Tartuffe. Orgon bestows all his wealth on Tartuffe and thinks more about the stranger than he does his family. He even plans to make his daughter Mariane marry Tartuffe. Yet everyone else - apart from Orgon's mother - sees through Tartuffe and recognises that's he's a fraud.
When Orgon overhears Tartuffe trying to seduce his wife Elmire, he finally realises he's been betrayed. He orders Tartuffe out of his house but the con man hits back by trying to seize Orgon's property and have him arrested.
Aaron Bixley does a fine job as Tartuffe, his piety being a total contrast to his fearsome aggression when his true character is unmasked. Nigel Harris is a workmanlike Orgon, a figure of ridicule who can't see what's going on in front of his eyes even when it's spelled out to him. However, I would like Bixley to be more over the top with his religious posturing which would have made Harris's extremism funnier and more nonsensical. And although I can't remember much of the play from my sixth-form days, I expected Harris to make more of the comedy in the lines written for his character.
Rebecca Mahon almost steals the limelight as Dorine. She's totally credible as the disrespectful, canny maid who virtually runs the household and is a perfect judge of character. It's a fascinating part and Mahon approaches it with enthusiasm, verve and confidence.
As for the rest of the cast, Marcus Houden has made great strides over the past couple of years and fits comfortably into the role of Cleante, Orgon's wise brother-in-law whose level-headedness sticks out as everyone around him loses their temper. A pity though about his costume which makes him look like Little Lord Fauntleroy.
I've seen Lou Webb in a few productions and she gives her customary excellent, reliable performance even though she's a bit young to play Madame Pernelle, Orgon's mother. She's probably younger than Nigel Harris who plays her son - but that's one of the challenges of working with a small company and she rises superbly to it.
Sally Siner adds grace and class as Elmire who retains her dignity despite Tartuffe's dishonourable feelings for her.
Director Kim Gillespie injects plenty of pace into the piece, punctuating the action with commedia dell'arte moments to illustrate some of the more sinister aspects of the play.
I never got to see Tartuffe when I was at school - in fact this is the first time I've seen it performed. Had I witnessed this production back then, I'm sure my A-level grade would have been better. Central Line Touring pass the examination - with a little more work on certain sections, they would have succeeded with honours.
"Tartuffe" continues until April 29th
Reviewer: Steve Orme