Tartuffe
Molière
Space Productions
The Space
(2011)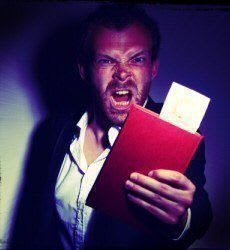 What do you get when you cross a con artist, a patriarchal husband and a family full of colourful characters? Tartuffe, Molière's best loved comedy, and this latest adaptation by Space Productions captures a lot of the play's humour, although maybe a little bit too well.
Tartuffe is about a suspicious religious man, here a faith healer complete with gaudy gospel, who has found his way into a wealthy family.
Apart from the family father who won't hear a bad word spoken against him, everyone else has an instinctive dislike of this supposed spiritual leader and the household begins to crack under Tartuffe's hand-wringing.
This production holds nothing back, from its bright-neon costumes to the over-the-top acting to the high paced dialogue. Tartuffe is a farce so everything has to be bold and powerful and exaggerated, and here there are certainly no half measures.
This frenetic atmosphere works extremely well at first, with every character clearly identifiable as the rowdy servant or the whiny daughter or the callous mother-in-law, and with the jokes flowing fast and easy.
The cast are great together and, better still, it's obvious that they're enjoying themselves on stage, making it all the easier for the audience to get in on the fun. All this makes for some certifiably hilarious scenes, as well as physical comedy that is actually comic, that wouldn't work without the high level of energy that's on stage or the smart directing.
Unfortunately, this production seems to have got its energy level stuck up at 11 so after a while it starts to drag. There're only some much sugar-coated laughs you can swallow and because there's no variation in tone, the action feels tiring past the first half.
Will Seaward best exemplifies this production's difficulties by being genius and irritating. He's the production's core, both in terms of the storyline, as he plays the family's maniacal patriarch, and in terms of stage momentum.
While he's fascinating and hilarious to watch at first with an impressively malleable face that becomes like a grotesque Punch and Judy doll and a domineering stage presence, by keeping his voice (and acting) too loud for too long, his style can become almost grating.
At its best this Tartuffe is high octane laughter fuelled with fireworks and neon colours. Once the buzz has worn off though, this production struggles.
Definitely a farce and definitely true to the spirit of Molière's play with some terrific acting and a great sense for what makes the script fun, this Tartuffe lacks breathing space and almost tries too hard.
"Tartuffe" is playing at the Space until 16th July.
Reviewer: Tobias Chapple