A Taste of Honey
Shelagh Delaney
TAG Theatre Company
Traverse Theatre, Edinburgh, and touring
(2005)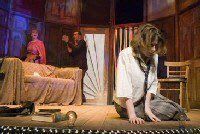 TAG's production of this nearly fifty-year-old script offers a fresh and vital look at a script which, truth be told, shows signs of its age. This is a tribute to Delaney's writing, which, although it lacks variation in pace, does convey the angst of a young woman desperate to take responsibility for her own life, and going about it in all the wrong ways.
Neil Warmington has designed a two-storey set made up of windows and doors, through which characters enter the tiny bedsit where the play takes place. There seems to be little rhyme or reason to where the characters enter and exit, aside from the one door which remains, throughout the play, as the door to the bedroom.
As Helen, Jennifer Black dominates the production, although Samantha Young's Jo is the protagonist of the piece. As the overbearing, tarted-up mum, Black provides the dynamism required by the subject material but not entirely communicated by the text. She's also the source of some of the most cutting humour in the piece: while many jokes provoked only a small chuckle from audience members, there was one point in particular when Young and Black's vivacious bickering provoked universal laughter.
The three men of the play, Martin O'Connor (Geoff), Tunde Makinde (Boyfriend) and Alan Steele (Peter) provide an interesting triad of masculinity; however, as in Jo's life, there seem to be no wholly positive male figures.
While the dialogue clips along at a healthy pace, there seems to be an awful lot of it, and one can't help wondering if a slightly pared-down script might punch up the development of the characters; then again, the age of the script might have some influence on its lackluster pace.
.
Reviewer: Rachel Lynn Brody