Taylor's Dummies
Gecko
The Tobacco Factory, Bristol
(2004)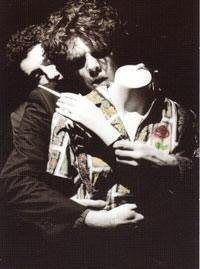 "Sexy, sweaty and unmissable". No, not a paean to the reviewers of British Theatre Guide, hunks and hunkesses all, although our standard of personal hygiene is beyond reproach, but rather praise for Gecko, a London- based quintet, whose Taylor's Dummies, a winning meld of movement, music, drumming, puppetry and flight (!), has wowed critics from Brighton to Bogota.
Still going strong two years after it netted a Time Out Critics' Choice of the Year and a Guardian 'Pick of', Taylor's Dummies recently scooped a further acclaim from Time Out. Its continuing success owes as much to the energy and enthusiasm of the performers, which remains undimmed, as it does to the wit, style and sheer inventiveness of the piece which clocks in at 50 minutes.
"Imagine Vertigo directed by David Lynch and performed by De La Guarda to the riffs of '50s jazz", runs the blurb. But don't despair if one or more of these cultural namechecks draws a blank, Taylor's Dummies is eminently enjoyable in its own right. "Theatre with panache and dark wit", as one critic rightly put it.
It's a little difficult to provide a summary of the piece which is more akin to music than drama with its linear storyline, themes moving in and out of focus. A man's life is thrown into chaos by a chance encounter with a woman in a bar or cafe. He (Taylor) then alternates between his fears and his desires.
In one of the funniest scenes, a woman's leg emerges from a table in a café where Taylor is sitting, lengthens, retracts, caressing his head with the instep of its shoe, provoking alternating reactions of incredulity and sheer delight.
Another bravura scene has Taylor, played simultaneously by three performers - one of whom is sat a table fixed to the wall horizontal to the stage - whose movements are all in sync. In another, a man rushes in carrying a 'dummy'. He then freezes and the dummy picks him up before freezing, and so on.
Elsewhere, episodes explore a yearning for escape, symbolised by a green door, a leitmotif which recurs throughout. In one scene, two of the men attached to either end of a rope slung from the ceiling, leap and clutch at a door tantalisingly out of reach. In another, a woman, in a harness, spins over and over, out of the reach of Taylor as he helplessly attempts to seduce her.
The darkest scenes dwell on childhood. In one of these, Taylor, played by a male member of the cast, is subjected to a tirade of abuse by the mannequin of a baby operated by others of the cast: "Taylor, you're always getting into trouble", is probably the only part of the infantile flyting reproducible here.
Elsewhere the mannequin, assisted by the cast, performs a very funny rendition of Fly Me to the Moon - that obscure object of desire again. As this suggests, the piece is not entirely cohesive, but then there's no reason why it should be, given the nature of its themes which darken as the night wears on.
Reviewer: Pete Wood