Tea With Oscar Wilde

Don't Go Into The Cellar
Lancaster Suite, Preston Guild Hall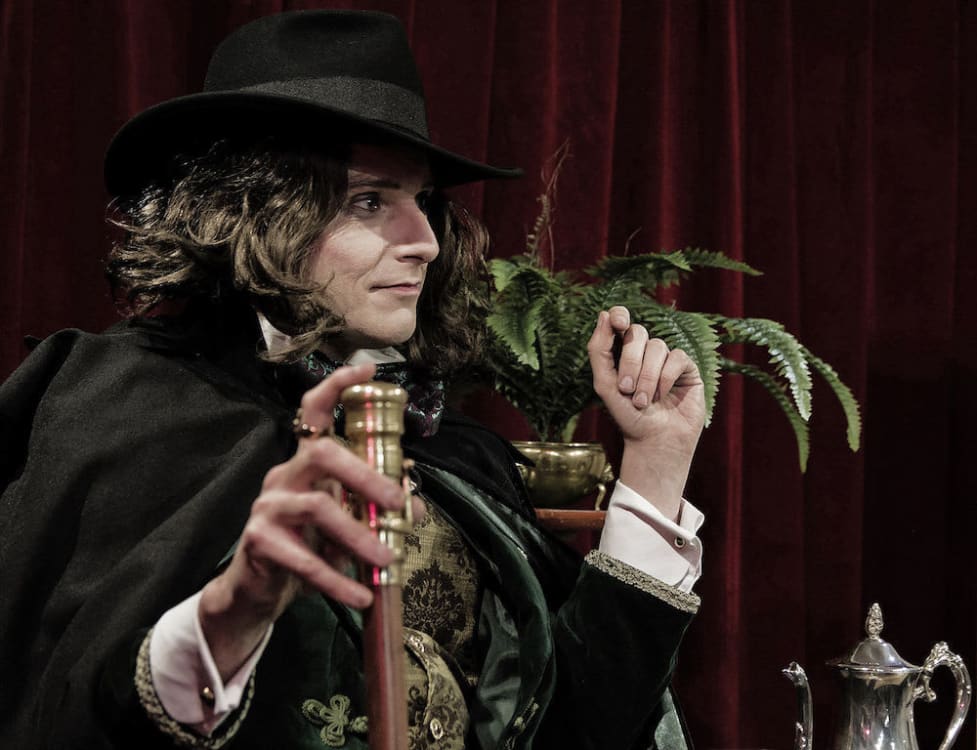 Think of a flamboyantly camp and occasionally outrageous Irish chat show host... and Oscar Wilde might not be the first name to spring to mind!
Had he been given half the chance however (instead of a prison sentence) the Victorian writer might just have turned up at afternoon tea parties like this one.
The first of a new series of monthly matinée dramas, in the Guild Hall's intimate Lancaster Suite, saw Birmingham-based Don't Go Into The Cellar! theatre company inviting theatregoers to Tea With Oscar Wilde.
By combining a little of Graham Norton's chat show with a dash of Old Time Music Hall singalongs and even one or two party games, it all makes for genteel entertainment for an appreciative capacity audience, who are also treated to sherry and a bite to eat.
Company artistic director Jonathan Goodwin took the title role, with Fiona Johnston as music hall star and "celebrity guest" Marie Lloyd. In conversation, they ensure that no double meaning is knowingly undersold, while the audience are more than happy to join in the innuendo. Amongst their number, Ali and Nigel also played along with an interactive game of charades.
A little more celebrity guesting and a little less of Oscar Wilde's maudlin children's fables might have been a better balance to what is essentially a miniature variety show, all topped off by a rousing chorus of "God Save The Queen"—with more than a hint of irony!
On April 19, the company stages The Singular Exploits Of Sherlock Holmes, in which the famed detective recounts highlights of his career in a one-man homage.
On May 25, Murder by Gaslight is a ghoulish audience with two of the most infamous poisoners in British history: William Palmer and Harvey Crippen.
Reviewer: David Upton