Techies: The Musical
Book by Rebecca Maynard, music by Geddy Stringer and lyrics by Aron Sood
Guild Musical Theatre Group at the University of Birmingham
theSpace on the Mile
–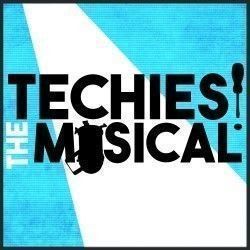 Techies the Musical by Guild Musical Theatre Group at the University of Birmingham is a frivolous look at the world of theatre from a backstage perspective.
There is a frenzy of activity behind scenes as the company prepares for the start of the show. The cast want to warm up but the techies are busy adjusting lights with screwdrivers (surely not!).
We are told this is a story of, "love, loss and cross threaded screwdrivers." The techies are the unsung heroes of theatre who ensure the smooth running of productions but this latest one South Atlantic—The Underwater Musical Experience is going to be a huge challenge.
Cynical Michael is the head technician who is not looking forward to working with the precious director Alicia whose last encounter was disastrous.
New enthusiastic recruit Elliot is the new inept crew member who can't tell the difference between a spanner and a hammer and has a blossoming romance with Lucy.
We learn about their individual ambitions: Natasha really wants to be an actress and is "secretly stagey".
But how on earth are they going to sing underwater? And perhaps Alicia should have told Michael that he needs to flood the stage with water, gallons of it, and one of the cast can't swim.
The cast sing well and perform with enthusiasm and the music is enjoyable performed by a live band.
It's all good fun and the audience laughed loudly but it didn't really tell us much about the true life of techies which was a missed opportunity.
Reviewer: Robin Strapp