Teddy
Tristan Bernays with music by Dougal Irvine
Snapdragon Productions and Theatre Bench
Southwark Playhouse (The Large)
–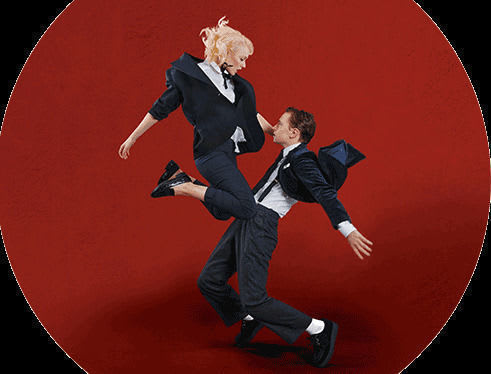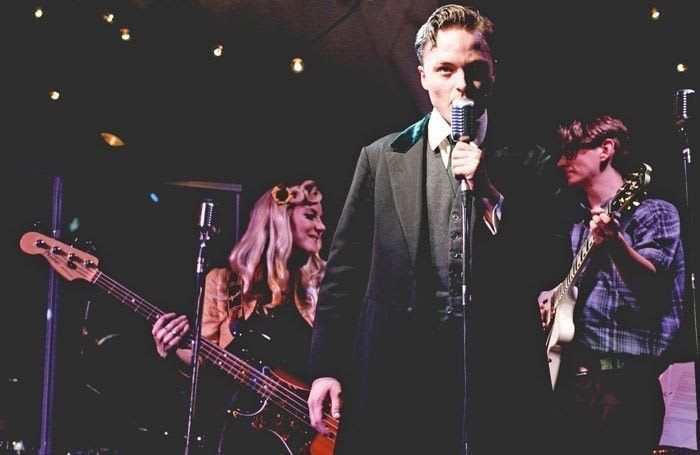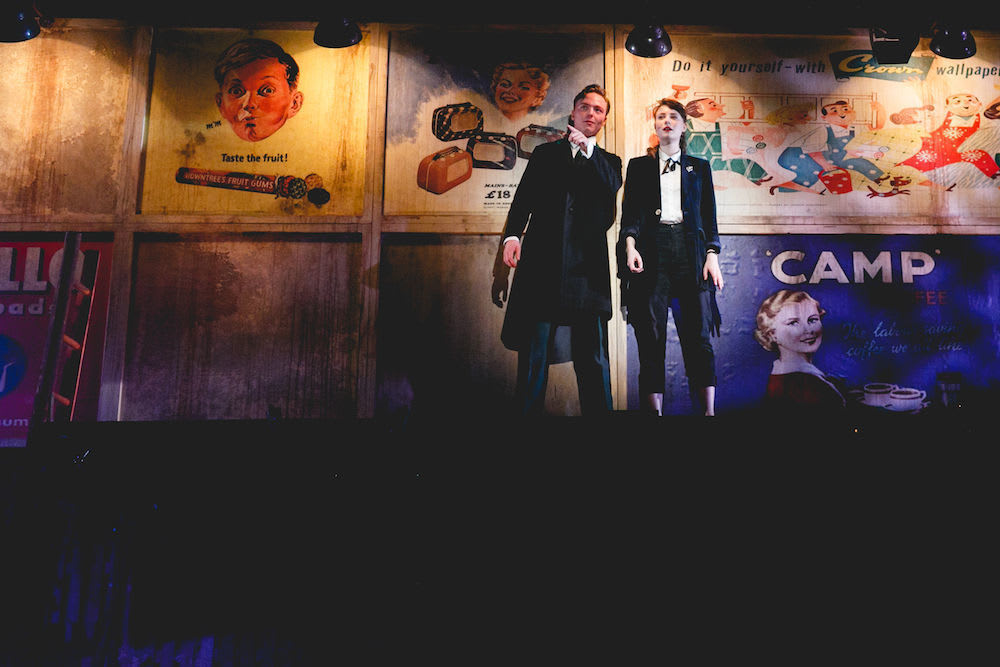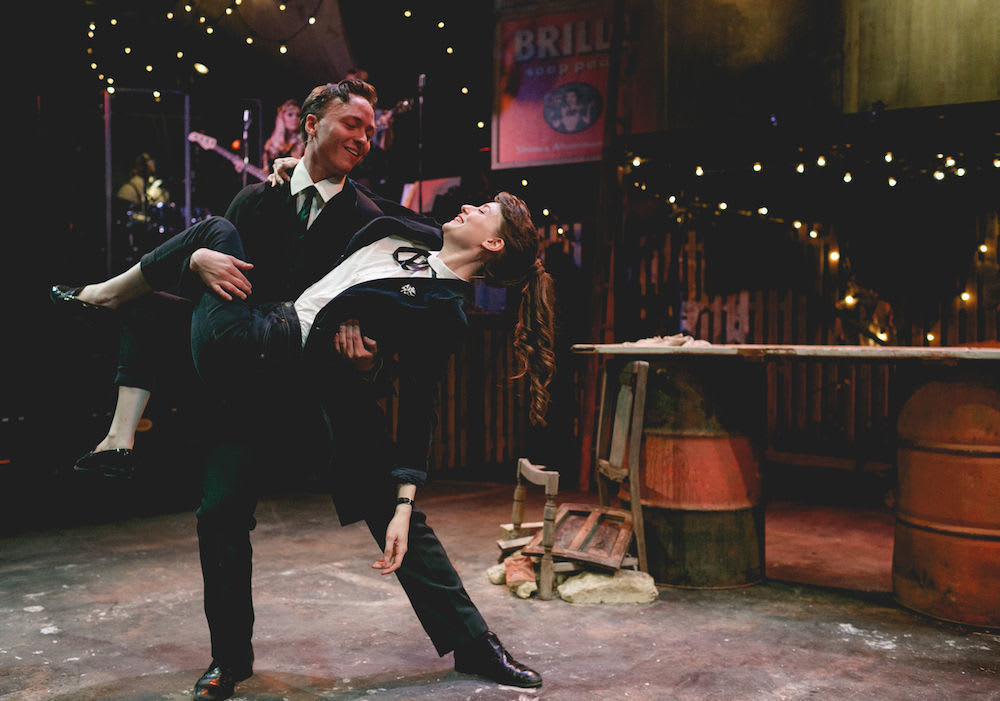 In 1956, some teenagers went on the rampage at the Elephant and Castle Trocadero cinema at a showing of Blackboard Jungle. They got themselves on front pages and the news.
Tristan Bernay's new play is set at that time, nearly sixty years ago, when young men with a little money in their pocket put on the style with a velvet collared Edwardian suit and a quiff, aping the threads of the fashionable better-off (who rapidly switched to something different) and strutting their stuff to Bill Haley and Joe Turner and with Elvis Presley shocking their elders.
His protagonists are Teddy and Josie, the girl he meets up with, setting out to make this a night to remember for (fictional) John Valentine and his band are in Britain and they want to be there.
This is no 1950s-set jukebox musical. Valentine's repertoire is all new-minted, composed by Dougal Irvine and played by Will Payne as Valentine with his band: Buster Watson (Harrison White), Jenny O'Malley (Alice Offley) and Sammy "The Sticks" Smith (Alexander Bean), a spectacular drummer.
It's not a pastiche music, it's original, but it sounds absolutely right. The band does a fifteen-minute set before the show proper and another one after. That's when the audience gets its own chance to dance—if they aren't too intimidated by the spectacular display that they have just witnessed from Teddy and Josie.
Irvine's songs aren't love songs or ballads or arias that help tell the story. Except for one attempt from Teddy to show off as a singer, they are John Valentine's gig, but appropriately fitted into the action to match what is happening allowing the band to also provide a musical underscoring to all that goes on.
It is not a very original story: two kids with aspirations who are out for a good time, without enough cash to do what they want to do. They need to get some, so there is some thieving, a confrontation with a hard guy, a gun. Nothing very new there: what makes it take off is the writing, the playing (both acting and musical), Eleanor Rhodes's direction and Tom Jackson Greaves's choreography.
For a start, Tristan Bernays writes it in verse, rhythmic and rhyming. Band apart, there are only two characters and even between them there is not much dialogue. This is a play made up mostly of two intertwining monologues but distinctly characterised and beautifully acted.
Joseph Prowen is Teddy, an elegant Ted with a watch chain and fob in his waistcoat, flashing a comb, flicking his quiff, a fast-talking Sarf Londoner, knee-twitching mover with a façade of bravado and I can do anything.
Jennifer Kirby is Josie; however much her dad may express disapproval, this girl knows exactly what she's after, or thinks she does. Occasionally, their narratives quote conversation and with great effect, Kirby's Josie chips in as the gruff voice of big butch guys set against Teddy's torrent of tenor twittering.
These are a pair of ordinary, not especially interesting characters we don't learn very much about but the actors create with energy and honesty. Though every aspect is heightened to match the style of the writing, they make them so real you are riveted. When the music takes hold, their moves are magnificent and capture exactly that exhilaration and release that many young people felt at the time.
London at the time was still war-scarred—this pair meet up in the bombed-out shell of a church, and Max Dorey's setting of scaffolding and a ladder, weather-worn contemporary posters a sign saying Danger and Keep Out and a glitter ball to offer phoney glamour is a reminder that life wasn't easy but, despite what you read or see in documentaries for young people, this was a great time.
The war brought work after years of unemployment, free educational opportunities, free medicine and, though the Tories got back into power, those leaving school at 16 had more in their pockets than ever before in a world that gave them more freedom, more confidence. They might still be the underdog but they didn't accept that they should be. It wasn't a depressing time unless you wanted to think so.
This show kicks into life and captures that surge of youthful energy, and there's hope behind it too, even if it offers a touch of the coming consumer mentality as these kids dream of the shiny red Cadillacs they have seen in the movies.
Reviewer: Howard Loxton