Teddy
Tristan Bernays with music by Dougal Irvine
Sarah Loader for Snapdragon Productions and The Watermill Theatre Newbury
The Vaults
–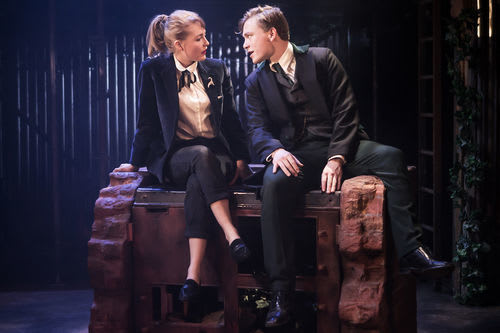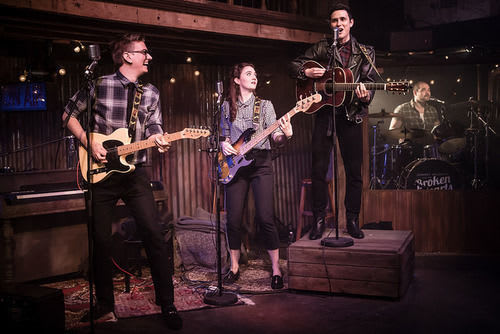 There is a very official looking warning sign over the entrance to the Vault theatre that made me hesitate.
It read: "Dangerous Site. Do not Enter." And, given the Vault spaces are reclaimed tunnels, for a moment I took the sign seriously.
But the sign was just part of an elaborate recreation of a post-war bombed-out area of London, 1956 that is the context to the musical Teddy.
Beyond the entrance is a bar with corrugated iron along the walls, a wrecked car protruding from one corner, rubble piled along the edges with a once-smart dolls' house sticking out of a mound of rocks. Over the bar are the huge, faded letters of "Bovril".
The performance space continues the theme with more corrugated iron and 1950s posters pasted up over the stage, advertising new peppermint Spangles, Crown wallpaper and other products.
As we take our seats, a band in the corner of the stage plays a lively rockabilly style rock 'n' roll. They are on stage throughout the performance, briefly chatting amusingly to the audience, contributing to the show ten songs by Dougal Irvine and afterwards treating the audience to a fifteen-minute dance with some of the classic rock 'n' roll hits.
The fast, rhythmic beat generates an optimistic mood with the songs loosely connecting to the show's story. When the characters talk about wanting to drive a Cadillac, we get the song "Cool Cadillac".
However, the songs never progress the narrative or contribute to character development.
The weight of the show's story is carried by the characters Josie (Molly Chesworth) and Teddy (George Parker) who, dressed as Teds, will meet one night in 1956 and, determined to get the entry price to see Johnny Valentine and the Broken Hearts, rob a pawnbroker's.
When Teddy brings along his dad's war relic German pistol, you know this won't end well.
Mostly, they tell this story in monologues. Occasionally, there is a dialogue between the pair. They speak in non-naturalistic rhymes. At times, they briefly become caricatured versions of other characters such as the pawnbroker and the huge bully who is interested in Josie.
A twenty-first-century sensibility about the assertiveness of women runs through the show, with Josie asking the bully "you reckoning just cos I got hips and lips I aint got fists?" And the bass player of the band Jenny O'Malley (Freya Parks) puts the drummer Sammy 'the sticks' Smith (Andrew Gallo) in his place with the words "do you want to feel my feminine touch across your jaws?"
The show is fast-paced and confident. The story is a light, London version of Bonnie and Clyde. It has nothing serious to say about the world but it is entertaining fun.
Reviewer: Keith Mckenna