Teechers
John Godber
Blackeyed Theatre
The Corn Exchange Newbury
–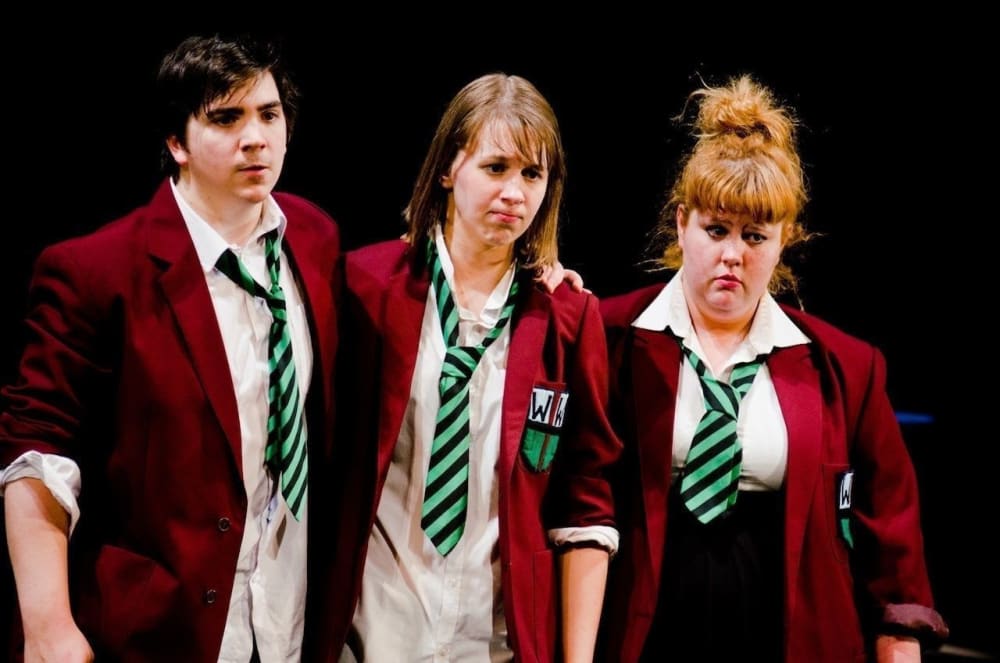 With Michael Gove introducing sweeping educational changes to the English examination system and many students being denied the opportunity to study arts subjects as he compels schools to concentrate on core subjects, together with the savage cuts to the arts forcing theatres and Arts Centres to close, John Godber's brilliant classroom comedy Teechers is as apposite today as it was when it was written in 1984.
In fact little has changed. Then it was the concern that drama teaching and the creative arts as a whole were under threat in our schools, with drama once again being squeezed from the timetable.
The Blackeyed Theatre has brought a fresh new vibrancy to the script updating the music with such up-to-the-minute hits with a hilarious rendition of "Gangnam Style" and a gleeful rendition of "Don't Stop Believing" and songs from Beiber and One Direction.
This high-energy production is played with total commitment from this young cast of three under the very capable hands of director Adrian McDougall with inventive choreography by Scott Jenkins.
Jacob Addley, Nicole Black and Donna Preston are talented actors who play over 20 different characters with just three chairs and three desks as a set. They challenge the audience to work hard to use their imaginations to create the various scenes, and it works well.
This fast-moving, funny play takes a hard-hitting look at life in Whitewall High School, a comprehensive in a special priority area. Enter a new drama teacher, Jeff Nixon, fresh out of college and brimming with enthusiasm, beautifully portrayed by Jacob Addley.
The headmistress, Mrs Parry, is about to tackle her fifth production of The Mikado and hoping to get this one right.
Anyone who has taught in a school or indeed been a pupil will recognise the authority of Mr Basford, the tyrannical deputy head who rules his classes with a rod of iron and is a very nasty piece of work. We also meet Doug, the self important, 'jobsworth' caretaker.
Then there are the kids, which of course include the school bully, Oggy Moxon, who is dreaded by staff and pupils alike.
Donna Preston is particularly impressive with some superb facial expressions and Nicole Black moves effortlessly from character to character. Her sexy Miss Prime, the PE teacher, is a joy to watch.
You could almost feel echoes of recognition of previous school experiences rippling around the audience as the play unfolded with vivid vignettes of life at the chalk face. This is a top of the class production, ten out of ten.
Reviewer: Robin Strapp