Tell Me On A Sunday
Music by Andrew Lloyd Webber, lyrics by Don Black
The Watermill in association with Jamie Wilson, Gavin Kalin Productions and Paul Elliott
Palace Theatre, Manchester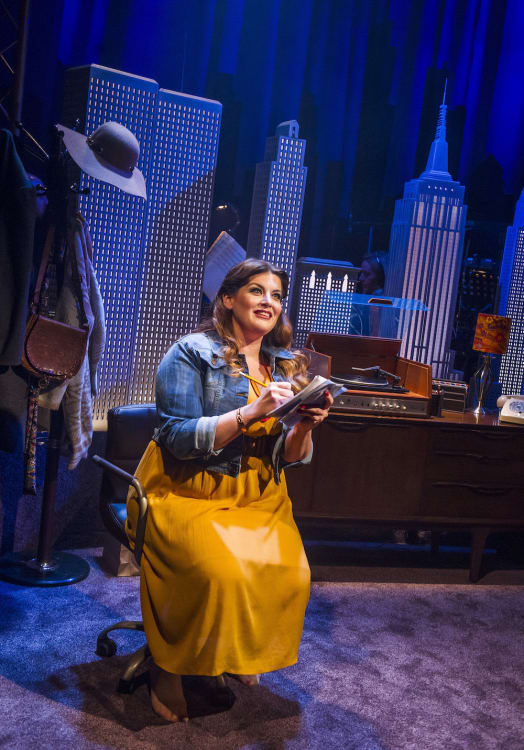 Lloyd Webber and Black's song cycle about a cycle of failed relationships is a great showcase for a musical theatre performer but poses the problem for producers: what do you do to make this one-act piece into a full night at the theatre?
Back in 1982, it was paired with a ballet to Lloyd Webber's Variations for a show titled Song and Dance; this Watermill production brings popular local girl Jodie Prenger back on stage for a couple more songs and a Q&A.
The show itself is a collection of songs, rather than a musical, that takes us through a series of failed relationships of Emma, an English girl in New York—and briefly in LA. Some are half-conversations to an imaginary second person in the room or over the 'phone; some are letters to her mother back home in Muswell Hill; others are just soliloquies through song.
Black's lyrics are insightful and witty and very well crafted, often poking fun at New York life. Lloyd Webber's music is similar in style to Evita, which he wrote just before this piece, with some well-crafted pop songs mixed with recitative, although sometimes the melodies don't match the seriousness of Black's lyrics or make them difficult to sing smoothly.
Altogether, it is a slight piece but well-written and entertaining. Prenger is a perfect choice for the role, able to make the most of the comedy as well as the pathos in Emma's circular story. However there are moments when Paul Foster's production, against David Woodhead's set of a miniature New York skyline with the band visible behind, doesn't seem to be getting the most out of the script and performer.
The part after the interval is a bit cobbled together. There are three songs, including Prenger duetting with her understudy Jodie Beth Meyer (who has a superbly rich voice) on "Another Suitcase in Another Hall" from Evita, interspersed with Prenger answering questions about herself submitted by the audience on cards on their way in.
It's interesting for fans and Prenger certainly has the personality to make it entertaining, but, at less than half an hour with just three songs after an extended interval, I'm not sure it's worth sticking around for an extra hour after the main event just for this.
The show is playing mostly single dates around the country. It's an interesting and unusual piece, very different from the Lloyd Webber blockbusters, so certainly worth catching if you haven't seen it before.
Reviewer: David Chadderton