Tell Tales

Jackdaw Theatre
The Vaults
–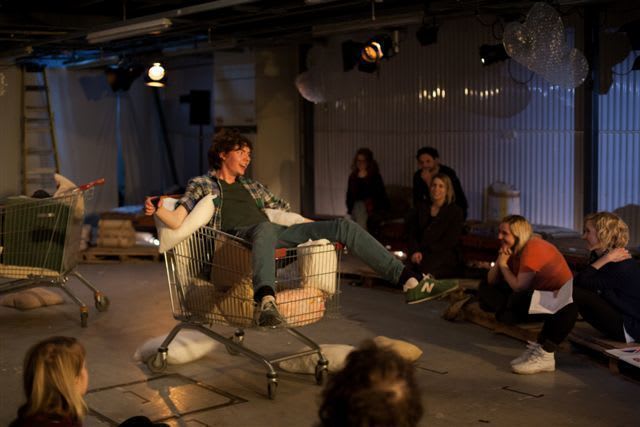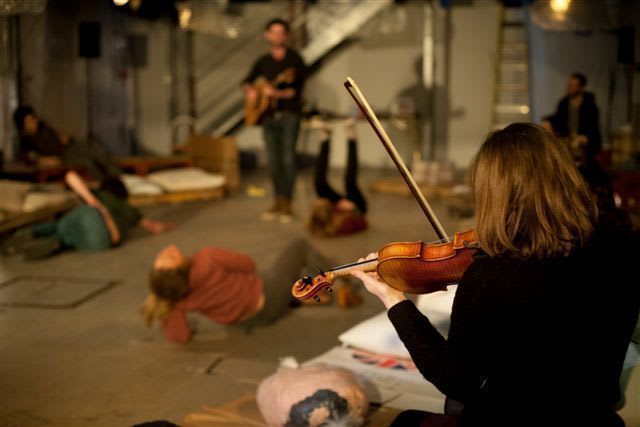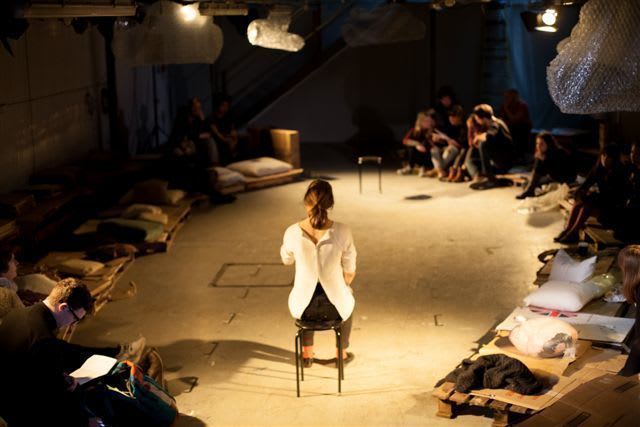 This is a programme of mixed presentations from individuals and groups some of which are story-telling, some theatre and some that can't be easily categorised.
It is presented in a very relaxed way that begins by welcoming the audience as they arrive and then asking separate groups of them to build their own seating from a stack of plastic crates, wooden pallets, cardboard and newspapers. With hard hats to make them feel like builders and rubber gloves for those with sensitive fingers, it ends up with something that is actually quite comfortable, especially after a pair of shopping trolleys arrive with cushions and pillows.
It is then that a disembodied voice is heard 'phoning his mum to tell her that he's being allowed to open the show—which, when he emerges, you'll never guess where from, he does!
The first act to follow is Damien Lyne as parking valet Chips Parker ("a valet in the valley of darkness" he calls himself) who, because the make-up lady has not turned up, is asked to shave a competitor, a body builder appearing at the Mr Bubbles club where he works. Easy enough you might thing, except it's not his face but the other end that needs the shave.
I won't tell you what happens that ends up with him getting the sack, but it is well delivered and not too long, which is more than can be said for some of the pieces in the show, though, since the audience is asked to treat it as work in progress, this may not apply next time they do it.
A delightful jokey mime separates this act from the next, and others follow later, but the next main performance is the story of The One Handed Murder as re-told by rich-voiced Sarah Rundle who tells it splendidly with support from June Peters on violin. A fairytale made fresh and fiercely feminist. The strength of performance manages to top even the loud music of another show next door and its vitality is totally engaging.
A surreal dream-journey, Inferno, recounted by Harriet Creelman, accompanied by guitar and violin was sometimes swamped by next-door's competition, which may be why it seemed so lengthy. Another self-indulgent blog-like piece, which a supposed member of the audience was asked to read, was definitely too long but the sharp intelligence and timing with which it was delivered almost made it work and belied the fact that this must have been a plant.
Beth Dear's 10 Women is the most serious piece in the programme and perhaps the most theatrically structured. It is performed by ten women spread out around the audience who speak the phrases of the text fluidly between them before coming into the centre of the space to stage their feminist protest asking, as they stand naked or semi-naked, "what are you thinking?—and why?"
It is followed by an uncredited guitar-strumming performer, in a piece that is brief and particularly engaging. He declares himself as a minor Shakespearean character from Henry IV, the Duke of Clarence, and bemoans his lack of visibility, often behind a pillar, before an hilariously touching and decidedly off-stage death scene, struck by a crossbow bolt in battle.
A mixed bag—I haven't described them all—that is presented in such a friendly, relaxed way under Bethan Dear's overall direction that you can forgive a few longeurs and it got a warm and enthusiastic reception from its audience. But with multiple shows being staged in numerous adjoining spaces, the management here really should do something about sound insulation.
Reviewer: Howard Loxton