Tell Me on a Sunday
Music by Andrew Lloyd Webber
Lyrics by Don Black
New Theatre, Cardiff
(2004)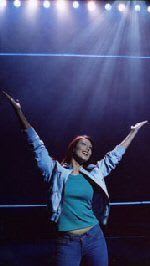 This is Sex In The City without the sex, without the raunchy humour and without any real dramatic tension.
What this is, is a showcase for a lone female singer and because it's music by Andrew Lloyd Webber why not set it in London and New York, but mainly New York, because Andrew makes big bucks in the Big Apple.
The music is written strictly to the Lloyd Webber formula, which is that you come up with at least one good tune and then you make sure you repeat it enough times so the punters leave the theatre remembering that one tune. It works. I remembered two tunes but for the life of me I can't bring to mind the other dozen or so.
For those who don't know the story, we follow the fortunes and misfortunes of our heroine as she struggles to find love. She finds it…loses it….finds it…loses it….finds it….loses it. I don't think I've missed anything out.. And that's the problem. Who is this woman? How does she exist from day to day? Does she have a job or does she simply live on love?
For what is essentially an hour and a half monologue we need to have far more insight into her world. She's singing to shadows and we need to know more about those imaginary characters to help define her.
This show works as a concept album of love songs and if you put a big name star in the role you could have something that might run. However, how many female singers are there who can sing and act at the same time, and I mean act with a gut-wrenching sincerity. Not many.
Faye Tozer has a pleasant enough voice. It's clear with a good range but like many untrained voices it sounds nasal at times. She clearly has a good stage presence but this part requires that extra bit of acting talent that I felt was lacking here.
I must say that Faye Tozer is one lucky lady. This must be one of the most expensive one woman shows doing the rounds, with a set built around a revolve stage, enhanced by back projected videos and a first class backing group. Technically the whole show was sharp and a pleasure to watch.
Faye Tozer has one good thing going for her. She's enjoyed fame as a member of pop band Steps and perhaps it's this novelty value, not the strength of the show that will attract and enthuse audiences.
The show runs at the New Theatre, Cardiff, until Saturday 31st July.
Steve Orme reviewed the same production in Nottingham and Peter Lathan reviewed it with Patsy Palmer in Sunderland
Reviewer: Tony Layton