The Tempest
William Shakespeare
Cambridge University American Stage Tour
ADC Theatre, Cambridge, and touring
(2010)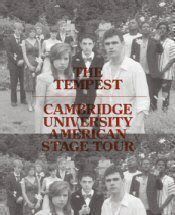 The opening moments of the Cambridge University American Stage Tour's (CAST) production of The Tempest, directed by Mark Maughan, introduce a key motif and probably its most effective interpretive innovation: the flash and click of photography mimics lightening and the terrified, shipwrecked Milanese are illuminated in a series of tableaux as if caught in a camera's lens. This production's Prospero (Oliver Soden) is a photographer; like the earliest masters of this art, his magic lies in his ability to capture a person's image, and in this way to take control of them, to possess them.
Since its establishment in 1999, CAST has taken its productions of Shakespeare to the United States every year but one. This year's company is soon to embark on its month-long tour of the eastern and central States, from Massachusetts to Florida, before returning to Cambridge for a few final shows.
Cambridge has a proud tradition of fostering creative talent, and not just the famous early 1980s generation of Footlights. A highlight of this production is Mark Fiddaman's performance as Caliban. He is compelling from his first appearance, crouching and wretched, protesting at his captivity, scratching at his skin as he stammers over his newly acquired words. Fiddaman's greasy bleached blond hair and pale, almost sickly complexion signify a decisive move away from the racially "marked" representations of the native slave that have become quite commonplace in modern interpretations of the play.
And in fact, the production steers away from the most recognisable performative readings of The Tempest; it is not postcolonial or postmodern, romantic or indeed Elizabethan in its aesthetic. Thematically and stylistically, this Tempest lacks a certain cohesion; the non-specific time and place allows for a jumble of a soundtrack that mixes the crackles of electrical interference with indistinct industrial and telecommunications sound samples and acoustic guitar music.
Adam Hollingworth and Emma Sidi share an excellent comic rapport as the servants Trinculo and Stephano, while the shipwrecked nobles, especially Eleanor Massie as the scheming Antonio (cheekily cross-dressed in a suit and bright pink socks) and Hollingworth as the verbose old Alonso, put in solid performances.
Soden's Prospero speaks in a tremulous, almost reedy voice; while he lacks the gravitas that we would typically expect of the powerful magician (or more precisely, of the older actor that would usually inhabit the role), Soden offers instead cool, quiet assurance, hinting as the play progresses at a creeping internal conflict and an unwillingness to give up the mantle of power.
This ambivalence is not, unfortunately, exploited to full effect in the crucial final moments of the play; the liberation of Ariel (delightfully played by Anna Maguire) is cursory, while Caliban's dismissal does little to suggest a reorientation of the power relationships that have governed Prospero's flawed world.
28th - 30th August, ADC Theatre and Clare College Gardens, Cambridge
4th - 30th September: United States Tour
5th - 9th October: ADC Theatre
Reviewer: Emma Cox