The Tempest
William Shakespeare
Royal Exchange Theatre, Manchester
(2007)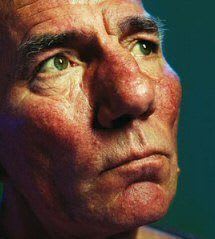 Artistic director Greg Hersov has brought international star Pete Postlethwaite to the Royal Exchange to lead his cast for Shakespeare's last play.
The play has a modern-day look, designed by Ashley Martin-Davis, opening on what appears to be the deck of a cruise ship with all of the travellers wearing pinstriped suits and sitting in deck chairs sipping cocktails while a Muzak version of 'Born Free' plays in the background. Of course this cozy little picture is quickly destroyed when the tempest rages.
Enter Prospero, who was washed up on the island years ago with his infant daughter Miranda and who is now a sorcerer, with a native slave, Caliban, and a spirit, Ariel, in his power. Postlethwaite is a commanding presence, but he achieves this through calm thoughfulness and touches of subtle humour, never resorting to rage and bluster. His speech that includes the famous and oft-misquoted "we are such stuff as dreams are made on" is a slow but very moving contemplation of mortality.
As his daughter Miranda, Samantha Robinson plays the teenage innocent with just enough wide-eyed wonder to get sympathy and humour from the part without every overplaying it, and she has a good romantic foil in Oliver Kieran-Jones as Ferdinand, looking like a young Ronan Keating.
Steven Robertson bounds in as Ariel like a young terrier with Tourette's, throwing himself about wildly and never able to stay still for a moment; he also demonstrates an impressive vocal range—in style and pitch—with his occasional songs to music by Arun Ghosh. As Caliban, Simon Trinder is slightly feral, very bitter, apparently ill-treated with signs of self-harm and he manages to bring a great deal of sympathy for a character that can be difficult to know how to play in the modern world.
The production has a superb comedy double act in Trevor Cooper and Toby Sedgwick (who is also director of movement) as Stephano and Trinculo, who effortlessly squeeze every ounce of comedy from their scenes without ever stepping outside the play's boundaries. Whatever they may say in class, the members of the school parties were certainly finding Shakespeare very funny in the theatre, as were the rest of the audience from a very wide age range.
The rest of the shipwrecked party, although individually they play their parts perfectly adequately, all seem to merge together a bit as they all stay together in a group and all wear very similar pinstriped suits. Jonathan Keeble as Sebastian does stand out from the crowd, partly due to his enormous height and white suit and partly because of his deep, cynical and slightly camp voice.
The already-impressive cast is augmented in the masque towards the end by recordings of some of the stars of past Royal Exchange Shakespeare productions as the spirits of the island, reciting quotations from other Shakespeare plays on the theme of love in a scene that utilises the theatre's surround sound facilities beautifully (sound design is by Peter Rice). Some of the voices heard here are Brenda Blethyn, Lorraine Ashbourne, Barbara Marten, Tom Courteney, Robert Glenister, Paterson Joseph, Ben Keaton, Robert Lindsay, Tim McInnerny, Andy Serkis and Michael Sheen.
This is a wonderful production with a superb leading cast, a nice, simple design that doesn't get in the way (most of it consists of sand that Ariel spreads from his sleeves in a lovely little touch), some superb comedy and some wonderfully tender and moving moments. This is the sort of theatre that the Royal Exchange has a reputation for but which it doesn't often deliver, and although the pace slackened a little towards the end, the almost three-hour running time flew by with rarely a dull moment.
Reviewer: David Chadderton