The Tempest
William Shakespeare
The Baxter Theatre Centre, Cape Town, in association with The Royal Shakespeare Company
Grand Theatre and Opera House, Leeds, and touring
(2009)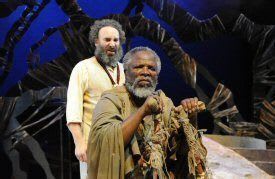 In the long lived and intermittent game of 'the five best productions we've ever seen' changes are few and far between. My list took a jolt last night. Up there with Marat Sade, Shockheaded Peter, and Laughter on the 23rd Floor (okay, I know that's not on many lists), I now add this production of The Tempest.
It has everything. Yes, everything good about theatre was played out before a packed, excited, deeply appreciative house.
I have never seen such an accessible, revelatory production of The Tempest as this. Narrative and emotional through-lines sparkle and grip, subplots enthral, contemporary relevances hurt, characters intrigue. The wide grins and excited chatter of the departing audience said it all!
In the programme Director Janice Honeyman recalls saying to Tony Sher of The Tempest: "It's our play! It's African!" This production is a kaleidoscopic realisation and affirmation of her judgement. A superb tribute to African culture, theatre and Shakespeare.
A huge lightning shattered tree dominates the stage. Entries and exits are made along gnarled branches. Exotically dressed Sprites merge and emerge. An exciting, unbelievably light-footed Ariel (Atandkwa Kani) makes its upper reaches his home. Below, earthbound until the terminal image, when he casts away his crutches, stands tall and surveys his home, John Khani's sympathetic, human Caliban suffers his humiliation.
Characters, though some, of course, are super-naturalistic, are all believable, have depth and are skilfully caught. Anthony Sher's Prospero has all the inconsistencies and flaws of a shipwrecked nobleman. Sher appears to be exploring the text, discovering meanings, making it up as he goes along . It's a beautifully judged performance which more than anything emphasises the humanity of a man facing his days of decline.
The lighting is stunning, puppetry enchanting, sound, music, singing, choreography . I run out of superlatives.
The show looks so good, and Janice Honeyman has brought magic to an already magical play. Her hand, mind, vision is everywhere. So much elaboration and depth is carried by non-verbal behaviour. For example, one of many, the text gives Prospero a final 'aside' Ariel: "My Ariel, Chick,/That is thy charge/ Then to the elements be free, and fare thou well!" In this production the aside becomes a scene of narrative and emotional subtlety, rich in theatricality and stage craft.
In other words, get thee to a theatre, this is a very special production.
This production was reviewed by Kevin Quarmby in Stratford, by Philip Fisher in Richmond, and by Philip Seager in Sheffield
Reviewer: Ray Brown