The Tempest
William Shakespeare
Jericho House
Barbican production St Giles Church, Cripplegate
(2011)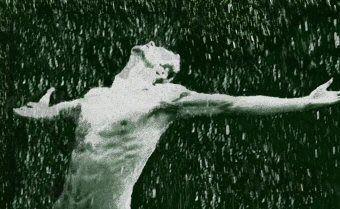 There's a certain cultural clout when you're performing Shakespeare in a church, performing a cultural, almost religious, institution within a religious, as well as cultural, establishment. When it's also The Tempest that's being put on, one of Shakespeare's more consciously aesthetic plays, then this is probably some kind of testament to civilisation: look upon this culture, this beauty.
But The Tempest also has its murkier elements; this is, after all, a story about a man who uses supernatural powers and slaves to bring his enemies to an island so he can enact his revenge on them. This production of The Tempest fully inhabits the St Giles Church in one sense, with a quasi-religious feel, but it fails to grapple with the play's other, less poetic, issues and so has a weakened dramatic tension.
What this version of The Tempest has in its favour is a consistent and beautiful aesthetic. The bare stage is flooded in light; the characters are dressed in white or beige and black, and there are careful touches of colour from the various panels set around the side of the stage, painted with doves, trees and waves. This is a beautiful space that is a pleasure to see.
Unfortunately, it's not as much of a pleasure to watch. Where it's at its strongest is with its great speeches - Alan Cox as Prospero is incredible, displaying an impressive sense of pacing and that throaty Shakespearean diction - or with its musical moments: Ruth Lass as Ariel has a stunningly refined voice as well as very graceful movements. Towards the end, this production really hits its sweet spot and Prospero's closing speeches were stunningly well performed.
However, The Tempest is tricky in that its tensions aren't that easy to bring out. Here, there's only the one approach, white, light and bright, so the play's fairly flat storylines do weigh this production down. There's no grime or grub on this desertisland, meaning that not only does this Caliban, usually one of the play's more intricate characters, feel flat and conservative despite being played competently by Nabil Stuart, but the space is too clean to be dangerous for any of the characters.
There's an interesting interpretation of the play here, where there is no real danger on the island and that it's all just Art and artifice, but that doesn't make for a compelling piece of theatre. Clocking in at two hours twenty, no interval, this production is demanding of its audience's attention, without being quite able to draw their attention in.
Nonetheless, this is an extremely beautiful production with some very talented actors and a well crafted vision for the play. It's just a shame that there isn't much room for the audience in this vision.
Reviewer: Tobias Chapple