The Tempest
William Shakespeare
Nottingham Playhouse
(2004)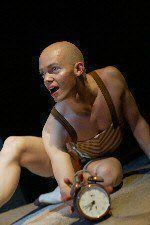 There's a tendency these days for the central character of Shakespeare's final solo play to be perceived as an old dodderer who wants to wrap up all the unfinished business of his life. Prospero needs to be someone with worldly experience.
In Richard Baron's new production at Nottingham Playhouse, Clive Francis proves that while you need vast experience of the theatrical profession to play Prospero, you don't need to be so old that "every third thought shall be my grave".
Baron worked with Francis recently when he adapted The Hound of the Baskervilles. When they looked forward to The Tempest, Francis said he was aching to play Prospero. The theatre snapped him up - and what a good decision that proved.
Francis's only concessions to convention in the role of Prospero are a bushy beard and reading glasses which give him an air of seniority and respectability. But his Prospero has no need for a zimmer frame; the last things you expect him to demand from Ariel are a pipe and slippers.
Francis's Prospero is a vibrant, zestful character who has an abundance of love for his daughter and hatred for those responsible for sending him to the island. He's almost insane with power when Ariel brings the travellers to Prospero's cell - yet his forgiveness and reconciliation at the end evoke huge admiration because of the vast change in his temperament.
Act one scene two, in which Prospero explains to Miranda how his position as Duke of Milan was usurped by his brother, can drag interminably. But with good movement, hand gestures and intonation, Francis injects pace and energy.
Baron's production is full of novel touches which give a new perspective to one of the Bard's best-known comedies.
The play begins with the travellers on board their ship with Ariel behind them, conjuring up a storm which wrecks the boat and sends Alonso's throne into the air.
When Prospero wants to make it difficult for Ferdinand to woo Miranda "lest too light winning make the prize light", invisible Ariel flies down onto Ferdinand's shoulders to control him. Ariel later turns into the logs which Ferdinand has to stack to show obedience to Prospero. And when Trinculo gets under Caliban's gaberdine to shelter from another storm, the pair of them end up prancing around the stage like a pantomime horse.
Baron interestingly has Rod Matthew doubling up as the king's brother Sebastian, a slick spiv who can't be trusted, and butler Stephano who is excellent as a drunk. To Matthew's credit, you can hardly tell it's the same guy playing two parts.
Baron's ingenuity would be ineffective with the wrong cast. However, he's assembled a mostly fine troupe.
It's difficult to believe that Matthew Bugg is making his debut as an actor. He trained as a dancer but after a serious back injury he concentrated on music. He's a lithe, mischievous Ariel, showing no fear as he flies, courtesy of a harness, across the stage. He also sings well and plays the violin during some of the "sounds and sweet airs" which can be heard throughout the play.
Michael Melia, probably recognised as Eddie Royle from EastEnders, is totally unrecognisable as Caliban. He's a fairly abhorrent creature and Melia revels in the role, bringing out all the anger of the part as well as revelling in the exquisite lines Shakespeare gives him.
Eilidh Macdonald is a spirited Miranda and there is solid support from the rest of the cast, although having Graham Crammond's Trinculo as a music-hall comic doesn't really work and Matthew Chambers doesn't make the most of his role as Ferdinand which is, after all, one of the weakest in the canon.
Some of Jon Beales' songs don't seem to fit in with the inventiveness and charisma of the production. On the whole, though, Baron's slant on The Tempest is full of charm, vitality and humour.
"The Tempest" runs until November 20th
Reviewer: Steve Orme