Ten Times Table
Alan Ayckbourn
Bill Kenwright / The Classic Comedy Theatre Company
Richmond Theatre
–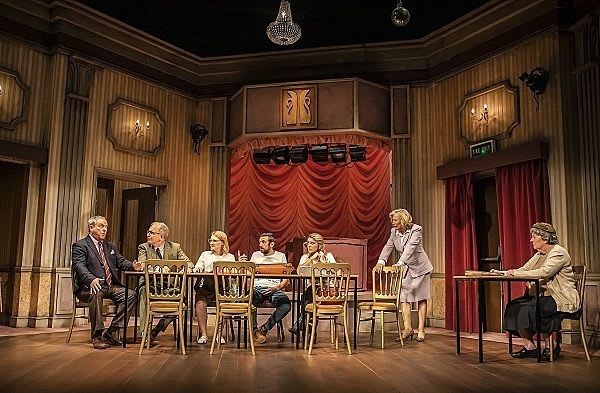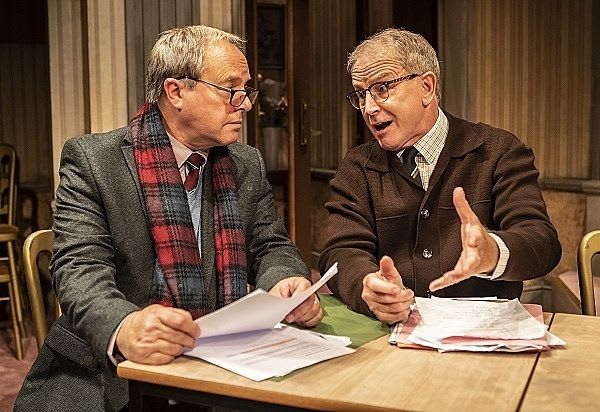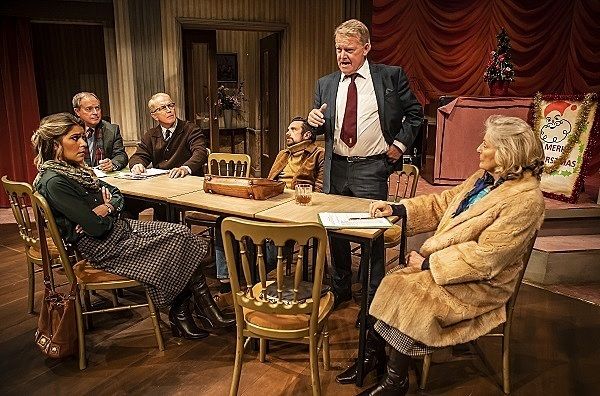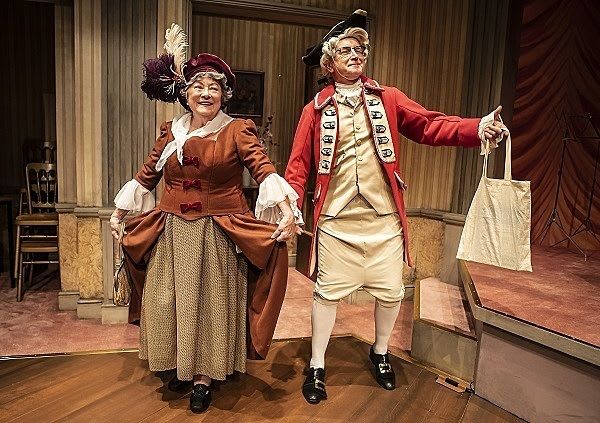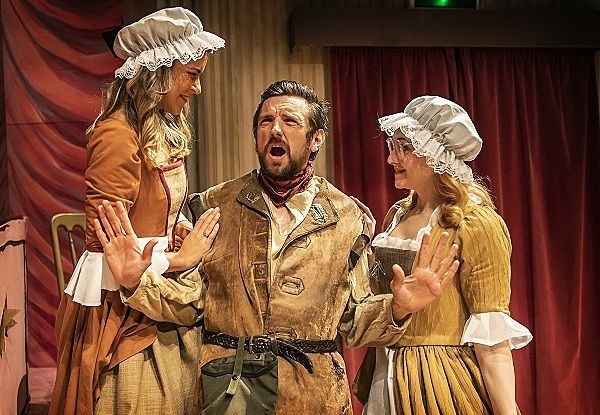 Alan Ayckbourn's Ten Times Table was first performed at the Scarborough Theatre in January 1977. At the close of that year, Britain would be plunged into a national crisis when firefighters staged their first ever UK-wide strike. Popular culture and politics fused when The Clash released their debut album in April, the first punk rock album to have significant chart success. The first Star Wars film offered a glimpse of an alternative, intergalactic future; for earthbound Brits, the Thatcher years lay ahead.
It was also the year that the UK celebrated Elizabeth II's twenty-five years on the throne, and watching this production of Ayckbourn's play, directed by Robin Herford at the Richmond Theatre, I wondered whether the forthcoming summer Jubilee celebrations were in the playwright's mind when he decided to shift his theatrical focus from the minutiae of middle-class marital rifts to broader concerns—political but often no less petty than the domestic—of social communities?
For, just as a celebration of monarchy might encourage reflection on national history and identity, so Ten Times Table invites one to reflect on how the past informs the present and may shape the future.
Set not, as so often in Ayckbourn's plays, around a kitchen table, but in the once-grand, now-grubby ballroom of the Swan Hotel in Pendon, Ten Times Table presents a series of committee meetings held by those councillors entrusted with organising the entertainments at a local folk fayre. They decide to dredge up the town's agricultural past and to re-enact the martyrdom of the Pendon Twelve, who were massacred during an agricultural revolt in the seventeenth century.
Fractious preparations for this historical pageant escalate into a present-day political committee-room battle between right- and left-wing ideologues, with the former claiming the event as confirmation of the local nobility's supremacy and the latter seeing it as a prototype and rallying call for socialist revolution.
Conflicts about ill-fitting costumes eventually erupt into a theatrical free-for-all as all hell breaks loose. Tim, the fanatical Fascist, shoots Eric, the manic Marxist, and is then himself floored by a blow to the head. Helen, the snobby wife of mild-mannered committee chairman Ray, is kidnapped and raped. The local police are called in to deal with a riot in the Market Square.
The ensemble cast work hard, but they struggle to balance the dual character and concerns of a play that at times seems uncertain if it is social critique, political satire or farce. The production tries to be all three, sometimes with hilarious results, but the register and tempo are uneven.
Moreover, given the improbable plot, we need credible characters whose interlacing conflicts paradoxically 'unite' them round the committee table. Again, the cast valiantly embody characters who never quite seem 'real'. Robert Daws is excellent as the benign but baffled Ray, as he struggles to reconcile his wife Helen's superciliousness—conveyed with haughty histrionics by Deborah Grant—with the socialist fervour of Craig Gazey's Eric, who is adored by his shy wife Sophie (Gemma Oaten).
Mark Curry bumbles about ineptly but harmlessly as Donald, the bachelor councillor who is accompanied to meetings by his deaf but eupeptic mother Audrey (engagingly played by Elizabeth Power). Robert Duncan—head bowed, back slumped, whisky tumbler in hand—is tragically plausible as Laurence, the bankrupt businessman who is drowning his sorrows in booze and bathos. What would lift this motley crew above caricature is some sense of a life beyond the committee room. When Donald recalls with delight that he once did the sound effects for the Pendon Players' Moby Dick, there is a tantalisingly brief hint of the contexts brought to bear around the council table.
Paradoxically, it's when the uptight Tim takes control of proceedings that things become both more chaotic and credible. For it's clear that Tim, played with fearsome fanaticism by Harry Gostelow, is a gun-toting madman—all darting eyes and twitching muscles—who views the pageant as an opportunity to eliminate every leftie in the locale. When he unrolls his battle map, anchors it with Donald's reluctant arm and Laurence's relinquished liquor and grabs Audrey's knitting needle to point out his field strategies, the intensity in Tim's eyes is menacingly maniacal.
It's no surprise that bedlam ensues and the cast rise to farcical heights in the final scene. As Audrey thumps out rousing roundels at the piano, Ray, in scarlet frockcoat and Cavalier coiffure, makes his entrance on a miniature pantomime horse with a crooked neck, and Donald toddles up the steps with the crotch of his period-costume breeches round his ankles.
Somehow, too, we know that order will be restored. Ray is left last-man-standing and reflects upon next year's festival. We doubt, though, that he will heed the warning inherent in Audrey's wise words when she utters the only common sense of the evening, explaining that the massacre of the Pendon Twelve never actually took place: it is a local myth, not historical truth.
In many ways, Ayckbourn's play seems rather dated and Michael Holt's set and costumes brilliantly transport us back to the '70s. But, in fact, Ten Times Table is surely more 'contemporary' than Herford suggests. For these political ideologues have created a present based upon sophistries and a self-deluding understanding of the past, and the future they foresee is similarly misguided and false. Only by recognising such deceptions and delusions can one avoid a future which is either farcical or tragic, or both. A lesson to be learned, perhaps?
Reviewer: Claire Seymour