Tender Dearly
Jodie Marshall
West Yorkshire Playhouse, Leeds
(2007)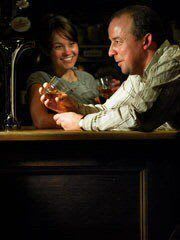 Let it be said straight off that this is a good night in the theatre.
We are in a bar, apparently frequented by one customer (The Serb, played by Michael Klesic) and three staff; there is mention of other customers drinking champagne, which explains why the staged characters can afford to knock back so much booze in every scene. Of the four, three are either very heavy drinkers or alcoholics. The owner, Irvine (Liam McKenna), in early middle-age, is studiously (and sometime too poetically) drinking himself to death. The question is, will he take his bartender (yes, Tender Dearly - tricksy title), young Phoebe (Alison Pargeter) with him? Or will clean-cut, fruit juice drinking, PhD student Euan (Damian Kell) rescue her? The second tender is an effervescent teenager, verging on the ditzy, called Stephany (Kate Gillespie).
No matter how you tart it up, and tart it up they do, sometimes with great skill and humour, sometimes not, the centre of interest and energy is the relationship between Irvine and Phoebe. And given parts to die for Liam McKenna and Alison Pargeter have a ball. Whilst Mckenna is by and large easy on the 'look how drunk I am button', Pargeter goes for the full Freddy Frinton lush. Playing drunks is not easy, the audience is all too ready to laugh. But McKanna and Pargeter sometimes capture the sheer otherness and awfulness of the space you can find if more than half your booze is more than 50% pure alcohol. Stephanie and The Serb, however, would be at home in Cheers, and Euan is such an obvious construct that Kell does little more than do the words - no more is asked of him. So we have the old scratch-cast-and-short- rehearsal problem: no uniformity of acting style leads to us seeing the acting as often as we see the character. All good actors, working in the ways they know best - a curse of cash-strapped theatre.
Alex Chisholm's direction is handy, rarely drawing attention to itself and utilizing the traverse staging to good effect. But to bring death onto the stage was injudicious. I really wanted to feel a tingle down my spine, it was an obvious and good device - but it just didn't work. Worse it was overworked. And worst of all it enfeebled the text - which should have had us, the audience, doing more work, seeing death skulking in the shadows. That's what this script calls for and could give. Cloaked figures with black mesh faces, when not in school productions, need very adroit direction and are far too obvious for a production that vaunts its atmosphere and desire for emotional impact.
Lights (David Bennion-Pedley) were fine, although a little less of the smoke machine would have been appreciated. Barney George's design is excellent. But Martin Pickersgill's sound left a bit to be desired - the fx sometimes suggested we were at street level, sometimes in a cellar. The River Styx (I guess) sounded more like twenty dripping taps. And when phone messages came in they altered in volume to match the action - what's that about? But it's early days, and traverse sound is not the easiest to get right in one go.
All in all this was an excellent first night. And, at the heart of all the atmosphere and plot shenanigans, the writing shines like glittering gems.
Jodie Marshal is clearly a writer of considerable talent and courage. The words tumble from her character's mouths, startling, funny, insightful lines. In one magnificent speech on the power of alcohol she pulls out all poetic stops and Laim McKenna smoothly rises to the occassion and gives an inspired presentation. Wonderful! Forgiveably then, Marshall is guilty of loving her jewels just a little too much. The first act is flabby and at least ten minutes too long. Twenty minutes in we are still shuffling around waiting for the play to get going, and watching actors drinking scarcely credible amounts of high octane booze starts to pall - no matter how good the language. The second half then becomes not exactly plot heavy, but sub-plot heavy. The dénouement is sign-posted from the opening scene such that it's sheer predictability makes it unexpected. And one of several tidgy subplots (has Stephany got cancer?) indicates that Marshal knows this and is playing with us. Which is fine. Except we are still left with a flat ending.
In other words, a good rewrite is needed, to include some restructuring and a lot of editing. As it stands it's a good night in the theatre (better than average for these parts) and a half way decent play. With work it could be a very good play - it has ambition and Marshall clearly has the ability to pull it off. Jodie Marshall - a name to note. And full marks to West Yorkshire Playwright for nurturing her.
Playing until 30th June
Reviewer: Ray Brown