Un Peu de Tendresse Bordel de Merde!
Dave St-Pierre
Sadler's Wells
(2011)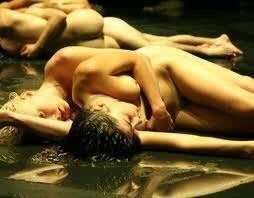 This season's performances at Sadler's Wells have playfully courted controversy, being dubbed the 'horses and naked men season'. We had the horses with Bartabas' The Centaur and the Animal, so now, with Un Peu de Tendresse Bordel de Merde! (A Little Tenderness for Crying Out Loud!) it's time for Dave St-Pierre to give us the naked men element - and he doesn't disappoint. As you take your seat a bearded man donning only a peroxide blonde wig bounces up and down on a chair shrieking 'hellos' and waving at the audience. The audience giggles before quickly getting bored by it and getting on with their conversations, leaving his shrill voice to annoyingly punctuate the air. It is a fitting prologue for a show which screams and shouts for attention like a desperate child.
Is nudity really still shocking in 2011? Apparently so. Although St-Pierre resorts to having his troupe of 26 dancers climb over the seats of Sadler's Wells to really get everyone going. I had a bum in my face, whilst many others had 'bits' dangled over their heads. The men take objects from the audience and rub them into their sweaty skin - one man had his glasses propped onto a penis. A neighbor of mine quickly got out her iPhone and papped some pictures whilst the first of many walk-outs scampered to the safety of the foyer. Meanwhile, the female cast attack one another, dry hump in the stalls and shriek obscenities at each other. It's like a Sarah Kane-inspired take on Puppetry of the Penis.
The evening continues in a similar manner - faux masturbation, sitting on a chocolate cake and rubbing its contents into the nether regions, spit, slapping of bums and faces It is a brutal performance, with very little of the 'tenderness' of the title on show. St-Pierre seems obsessed by the dark side of male-female relationships and the torture these can put us through.
Proceedings are led by Sabrina, a cold-hearted and drily humorous MC, who has cut tenderness out of her life. She has some cracking lines (my favourite is her threat to bring Margaret Thatcher back if we don't stand up to partake in a Mexican wave), and spends most of the evening calling the audience a bunch of exploitative losers, before finally breaking down, stripping off (of course), and laying alone amidst a sea of naked couples hugging each other. It's a thoughtful and affecting ending which comes a little too late to really make an impact. If St-Pierre had spent more energy on finding these more humane moments Un Peu de Tendresse Bordel de Merde could have been a memorable and insightful exploration of our need for human connection. As it stands I'll be remembering the silly naked men bouncing up and down in blonde wigs.
Reviewer: Terry O'Donovan