Terms and Conditions
Patrick Marmion
A Cabinet of Cynics in association with Stepping Out Theatre and the White Bear Theatre Club
White Bear Theatre
–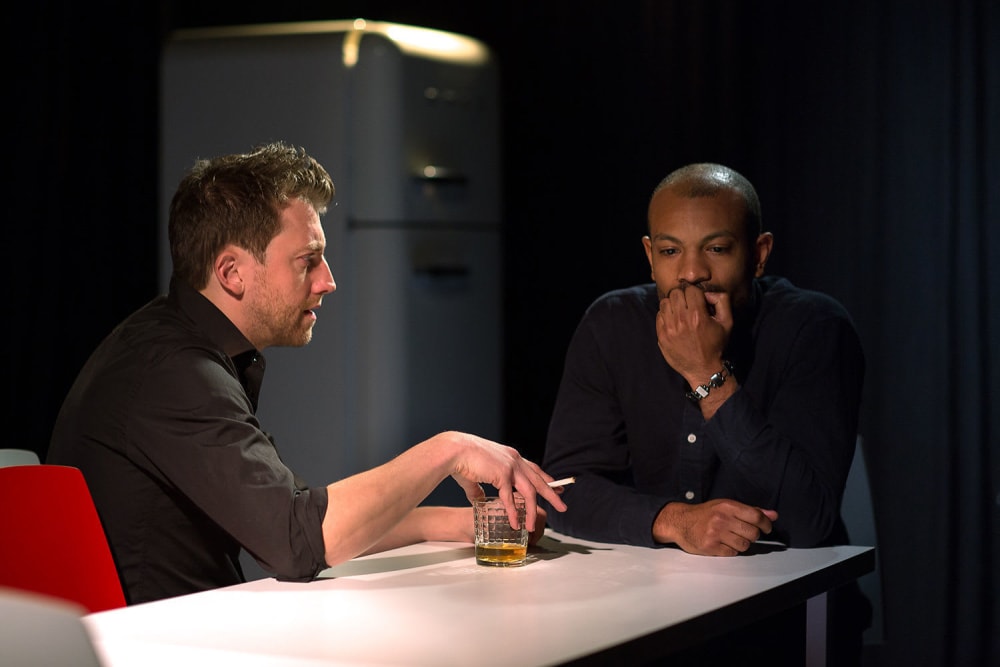 Kat and Walter are pretty stressed. They have a new baby and have just moved into a new house. Now the loo is blocked. When Kat goes looking for a sink plunger in the cellar she has a shock that freaks her out. There's a man down there, big, hairy, very smelly and not answering her questions.
Who is this man? What are they going to do? At first they decide that they must make him leave, but there's an instant problem: they have friends coming round for dinner. How are they going to handle that—should they tell them or just hope he stays there quietly until they've gone?
Next morning, his smell has gone. The stranger is not quite so strange. He seems a kindly, simple soul and he's is soon becoming part of their lives and their children's but—there is always a but.
Patrick Marmion's new play is an intriguing mixture of domestic realism and the surreal. It raises a lot of issues about friendship, attitudes to strangers—especially immigrants from different cultures, domestic trust, hide-bound psychiatry and what people will accept if it proves to be to their advantage, but, at its heart, this is a play that questions values and the nature of reality itself.
The cellar man, gentle, bumbling Liv, given engaging unconscious charm by Mike Burnside so that thoughts that he may actually be a skilled manipulator don't seem valid, represents something quite different from the material world of modern market forces and contemporary living. His world is in touch with different realities. Is Liv real? Is he someone found in the cellar of the mind? Not everyone can see him.
With Jennie Gruner playing Kat as a young woman on the edge of a nervous breakdown, Jermaine Dominique a self-questioning Walter, James Thorne and Victoria Walsh as his builder mate Les (who changes jobs to an establishment-representing security man) and his girlfriend Liz who is about to become a life-counsellor-come-shrink, it is strongly cast.
Then there is Charlotte Brimble, cross-gender cast as young Jasper, perhaps to emphasis the uncertainly of any reality, the questioning of which is the major theme, though at the same time exploring the strains between partners at times of tension.
Marmion is also well served by director Simon Usher who does not try to pin down any one string of meaning. Even the longish scene changes and persistence of elements in designer Carmen Mueck's staging are made to feel part of this strange flux rather than just longeurs.
Read what you will into this sometimes rather artificial text wrapped up in a naturalistic jacket, it keeps you watching and wondering, not least in the firm reality of Mike Burnside's Liv, even if perhaps he may not really be there.
Reviewer: Howard Loxton