Terre Haute
Edmund White
nabokov
The Drum, Plymouth and touring
(2007)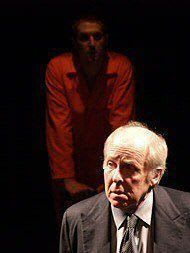 Terre Haute is the latest piece of 'backlash' writing for the stage produced by the excellent new writing company, nabokov. This is Edmund White's masterful and intense exploration of what may have taken place on death row at the Terre Haute Federal Penitentiary in Indiana, in a series of imagined encounters between Timothy McVeigh, the Oklahoma bomber, and Gore Vidal in 1995.
The characters are given other names, but the details of the crime for which the prisoner awaits death by lethal injection are the same as the events of April 19th, 1995: the bombing of an office block in Oklahoma, partly in use by the FBI, in which 168 people died, including 19 children in a ground-floor creche. White gracefully adds layers and texture to this scenario. James (Peter Eyre) is a cultured, wealthy and bi-sexual American writer, living a life of ordered privilege in Paris. Arthur Derville's Harrison is a consummate soldier: guarded, erect and utterly focussed on what he sees as his mission in the "civil war" he is fighting.
In an exquisitely crafted text the two men quickly warm to each other. Gradually, James begins to play on Harrison's insecurities, chipping away at his guarded veneer until it is cracked open, gaining for James the upper hand. It becomes clear that there is a pre-existing mutual respect which now builds to a genuine affection between the two, culminating in a beautiful and deeply moving final scene that stays with you long after you have left the theatre.
The play explores some of what was mooted to have been McVeigh's motivation for the attack: his enthusiasm for the controversial Turner Diaries; his military experiences in the Gulf War and his outrage at the federal handling of WAKO (April 19th, 1993). White gives the two characters some common ground: James shares Harrison's sense that the American public need protection from the American government. But at the same time, James bemoans the circumstances which have led Harrison into a misguided use of that youthful vitality, that untrammelled intelligence and that strength of conviction which he comes to discover drives Harrison. "If I had to live here, I'd become a terrorist too".
White's text is enabled to shine in this production: tight direction, a stark and powerful set and outstanding performances from the effortless Peter Eyre and from Arthur Derville. Eyre's easy restraint adds weight and emotional depth to his character and he is able to credibly "destabilise" Harrison. Derville combines the impassive courage and dignity of a soldier with his suppressed fear of execution. His is an authoritative performance. In turn he reveals Harrison's guarded reticence, his anger, his convictions, his insecurities and ultimately, his loneliness. By the final scene you are left wrestling with an overwhelming sense of pity for the man accused of such carnage.
"Terre Haute" runs at The Drum, Plymouth until 28th April, then tours to Norwich Playhouse, May 1st; the Royal Exchange, Manchester, May 3rd-5th; and the Trafalgar Studios, London, May 7th - June 2nd
Howard Loxton reviewed this production at the Trafalgar Studios
Reviewer: Allison Vale