The Terrific Electric
BOiLEROOM
Barbican Pit
(2007)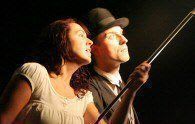 The winner of this year's Oxford Samuel Beckett Theatre Trust Award brings electricity as you've never seen it before to the Pit at the Barbican this month and proves that experimental theatre has much to teach the mainstream.
At an unspecified time and location in the mists of time, an ageing soprano and her eccentric household is held in thrall to a brilliant young doctor who brings the promise of a cure for the singer's failing voice, and throws the house into turmoil with the mixed blessings of electricity.
BOiLEROOM's production is experimental theatre at its multi-layered best, beautifully stylised in form but equally compelling in the substance of its message. In a series of striking tableaux, The Terrific Electric depicts the promise and the curse of one of man's greatest discoveries, from the maid who develops an addiction to ordering electrical goods from a catalogue, to the ward who seduces the doctor with her lamp pole dance, to the central, tragic hope of the fading star who lives in desperate hope of an electrical therapy to restore her voice.
The four-strong cast are extraordinarily well cast and each of the performances is outstanding. I was moved to tears by Daniela Garcia Casilda's tragic diva; Tom Lyall's medicine man is hilariously inept but touchingly committed to his cause; Megan Hefferman and Vanessa Faye-Stanley as the maid and ward are by turns beguiling, moving and outrageously funny.
The performances are kept brilliantly in key with the sound and lighting, and it says a lot for this production, and its designers and director in particular, that the actors are never upstaged by the effects, despite this being some of the most effective technical design I have seen. The Terrific Electric is one of the strongest pieces of theatre I have seen this year - proof that exciting experimental theatre is, despite West End appearances to the contrary, alive and well and blowing fuses in a theatre near you.
Until 15 September
Reviewer: Louise Hill