Tesseract
Charles Atlas / Rashaun Mitchell / Silas Riener
Barbican Centre
–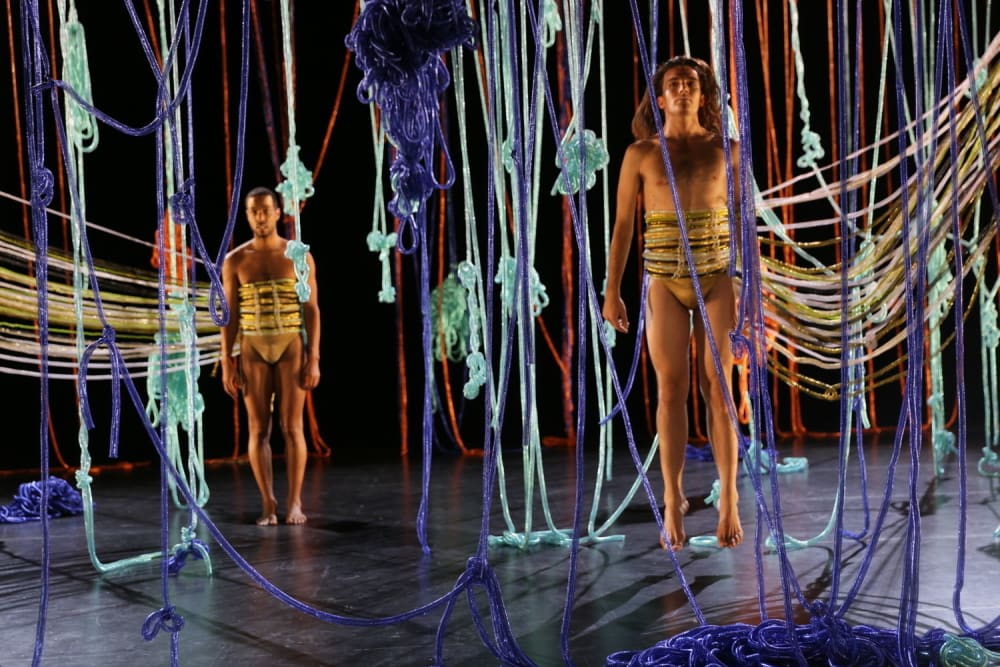 Staring into space with stars twinkling, only to be disrupted by six dancers in neon shell suits slicing up the space with swinging arms and legs morphing into multicoloured kaleidoscopic fragments, could best be described as hallucinatory gush or heaven.
Tonight offers up a little of both. Tesseract is divided into two parts. The first takes the shape of a 3D dance film where audience members are given a pair of 3D specs to focus on a luminous geometric cube hovering on a screen. This is the hypercube, a four-dimensional cube and definition of Tesseract.
Taking inspiration from 1940s sci-fi novellas, six dancers appear to slip in and out of the fourth dimension by way of inventive film techniques, movement and technology. According to the Barbican blurb, Tesseract is an exploration of all of the above: how do humans relate to technology?
The second part is a live performance that uses Steadicam and on-the-spot filming to create layering and depth, allowing the six dancers to be viewed from multiple perspectives by the audience.
Such experiments are the results of collaborations between filmmaker Charles Atlas, who worked with choreographer Merce Cunningham in the 1970s, and Rashaun Mitchell and Silas Riener, former dancers of Merce Cunningham dance company. So it's no mystery that Cunningham's influence is deeply embedded in the piece.
With a 3D glasses check complete, the show opens onto starry infinity with a weirdly surreal but compelling 3D experience that builds multiple layers of movement and colour acting as a lens onto intimate close-ups of awkward body angles and perspectives of the dancers throughout various chapters.
The first scenario is a black and white sequence, possibly the least surreal of all, where clearly the dancers are mirroring the imagery of black and white drawings in traditional planes of movement, lines and no curves.
We are soon transported into unidentifiable sci-fi worlds from Star Wars-inspired landscapes to a surreal orange moonscape with a space station on the horizon that looks like it's been made out of cardboard. Dancers' movement intentions change and the lines and squares turn into writhing curves and odd shuffling and weight shifting, while costumes have bizarrely shaped spongy growths sprouting out of bright orange leotards, possibly questioning body parts and gender fluidity, but it's not clear.
As we rollercoaster through psychedelic worlds, a bit like pressing the fast-forward button on the Sci-Fi Channel, the images are often hyperreal and distant because this is a film, not a live performance.
There is only one scene that resonates on a poetic level and this is where two male dancers, Reiner and Mitchell, move with the grace of defeated Greek Gods or boys from a lost tribe in their otherworldliness. As the dancers wind their way out of the undergrowth in a forest of brightly coloured ropes, they appear deeply physically connected as they fall and lock bodies together, hair flowing, eyes wide, close-up to camera, only to be pulled apart by unknown forces.
There is much use of the camera's 3D technology to enlarge the dancers and bring us closer to them as well fragmenting the audience vision with shapes and black framing that open and close like curtains. Such a readily available facility to access the dancing form and expression close-up is often breathtaking, especially when focusing on one part of the anatomy, for example the close-up of one dancer's back rippling like a serpent.
In the second part, once we get over the joy of seeing the dancers in real time, off celluloid and physically present, the novelty soon wears off. Dancers launch into square shapes and geometrically inspired lines with leg and arm swings and snow angel patterns on the floor reflected back at us. There is all sorts of visually pleasant imagery projected through multiple cameras capturing the live performance onstage, yet nothing crawls beneath the surface and ultimately we are left with well executed, abstract imagery totally referential of Cunningham's work.
While Tesseract is a brave and visually stimulating piece on some levels, it's a tall order to find a consistently engaging expression of what exactly the human relationship to technology is, particularly through the medium of dance, without resorting to clichéd, familiar images. And there are so many ideas thrown out here, it's hard to know which ones to grasp and run with.
Reviewer: Rachel Nouchi