The Art of Falling Apart

Big Wow, Richard Jordan Productions, Unity in association with Pleasance
Pleasance Courtyard
–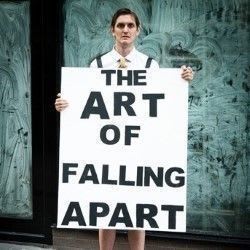 The Art of Falling Apart is a clever examination of what it takes to tip someone over the edge and what it takes to lure him back again.
The talented cast of two conjure many different characters and the pace is relentless as we move from scenario to scenario in Callum's life.
It is mostly funny but there are also moments of poignancy that keep it grounded, contrasting well with a ridiculous drug-fuelled scene and a grotesque birthday party.
Despite the snappiness, the running time is longer than perhaps needed which slightly diminishes the impact of the final section. The writing is well observed, however, and the performances equally strong.
Reviewer: Amy Yorston