Thalidomide!! A Musical
Written & composed by Mat Fraser
Chapter Arts Centre, Cardiff
(2006)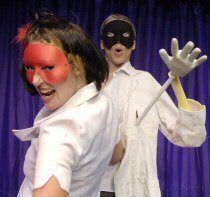 Mat Fraser's irreverent take on the musical is an ingenious marriage of cracking humour and mock-musical schmaltz, with a powerful political punch. With his overtly un-PC stance, Fraser plays Glyn, born with Phocomelia, the condition brought on by inter-uterine effects of Thalidomide. His love interest Katie Crawford is Anna Winslet, who grows up with Glyn and, as puberty hits, is turned on by his short arms. Together they shock their audience into its discomfort zone, tackling the sensitive issue of disability raucously and full on, with the such song titles as, "Talk to the flipper 'cos the face don't care" and "It's hard to hitch down life's highway with no thumbs".
Fraser and Winslet show great versatility with an array of characters and musical styles, ranging from brash Londoners doing big West End stage numbers, à la Lloyd Weber, to crooning country and western singers, eighties ska, Broadway style tap-dancers, and salsa dancing Brazilians.
For both actors, arms become an ever-changing, and sometimes unsettling, prop: Winslet delivers some songs with her arms firmly behind her back, and then, as she falls in love with the idea of helping Glyn, reveals huge, extended fake arms, with which she sings, "He'd be shot if born into a farm, but safe with me if I can be his arms". Then, in a brilliantly implausible plot twist, reminiscent of the worst of US soap operas, Katie finally gets the short arms she has always dreamed of and appears with plastic hands peeping out her short sleeves, singing, "My pubes are still shaved to a Brazilian but now I've learned to do it with my feet".
Fraser plays 'long-armed characters' with a series of Kenny Everett-esq mad prosthetics: stiff and erect for the stuffy English doctor, flaccid and out of control for the alcoholic, aggressive father, and donning a flowery shirt and clutching maracas for Glyn's alter-ego, Brazilian plastic surgeon, Raoul Raccinio.
The show doesn't avoid the big political issues, either: the families' lack of adequate compensation; the drug company's failure to acknowledge blame; the British government's reluctance to test the drug before dishing them out on the NHS, and subsequent reluctance to withhold the drug from sales once initial doubts about its safety were aired in the US.
Nor does it miss out the chance of portraying the social implications of living with Thalidomide. The developing relationship between Katie and Glyn is a vehicle for addressing emotional, physical, sexual and social issues: "Using two hands to pick up your cup...means you can't wave goodbye while drinking beer".
The production has already been the subject of much controversy with accusations of distastful exploitation from some quarters of the press, and even one politician. But to see this in these simplistic terms, is surely to miss the point. Thalidomide!! A Musical is shocking, full on and not a show to take your granny to, but it artfully raises awareness while it entertains, so that you laugh with Fraser at outrageous politics and discrimination.
Particularly strong is his treatment of the current need for intervention to help the so-called 'second generation' of babies born in their thousands with Thalidomide in Brazil, where the drug is in widespread use as a treatment for leprosy. It forms a setting for the central twist in the plot, and is the focus of his piece in the programme. These Brazillians are, as Fraser says, "some of the poorest people on Earth need[ing] basic help with wheelchairs, prosthetics general social inclusion". Fraser invites donations via the website, www.looknohands.org
The irreverence and the quality of the writing of this show may account for its widespread appeal: the audience were certainly mainstream theatre-goers. Maybe the mixed reaction of the press is a good thing too: many are speculating that this could become as controversial a production as Jerry Springer the Opera, were it to be given the financial backing needed to for a number one tour and a West End transfer. It deserves just such a happy ending.
This is a brilliant and outrageous show: it's shocking and confrontational and bombards you with your own preconceptions. But above all, it's a theatrical treat: mad songs, cutting edge gags and a great night out.
The Chapter performances, part of the International Festival of Music Theatre, were the last of a national tour.
Reviewer: Allison Vale