Thank You For Being A Friend: The Musical
Book by Nick Brennan, lyrics by Luke Jones
The Kraine Theatre, New York City
(2009)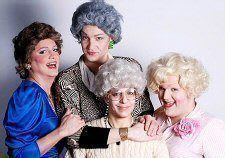 Nick Brennan's unauthorized salute to the mid-eighties sitcom The Golden Girls makes an effort to capture the camaraderie of the original series about four women going through the golden years of their life while playing up the undeniably camp tenor of a world in which a fading southern belle, ditzy Midwesterner, straight-talking daughter and her Sicilian mom all bunk up together. In Brennan's saucy adaptation, the women (names identifiable though slightly changed) are all played by drag queens, and, reading through the program, the production looks to have received a great deal of support from staple NY gay scene spots like Therapy Cocktail Bar and the Duplex Cabaret.
The plot of the one-act production, which feels a bit labored at times, revolves around N*Sync member Lance Bass (played by twinkie-in-golden-american-apparel-leggings Jody Wood, who bears little resemblance to Bass in either appearance or musical ability) moving in next door to Blanchet (Chad Ryan), Dorothea (Luke Jones), Roz (Brennan again) and Sophie (Susan Moreno), all of whom attempt to impersonate their namesakes without (with the possible exception of Moreno) really getting close. When Lance's all-night parties keep the women from sleeping, they try to find a way to stop him by - in true eighties sitcom manner - winning a bet based on the outcome of an upcoming talent show.
As the story hurtles forward, the requisite dick-and-ball jokes make their appearances and each character gets a chance to show one or two of their trademark mannerisms, with Moreno and Ryan having the best moments and Brennan and Jones being largely unmemorable. Even this grows stale by the point where Sophie and Blanchet try to double cross their roommates, their motives too simple for betraying the friendships the production is predicated upon.
Thank You seems to have all the elements which would make for a dynamite revue of a much-loved show, but it is as unmemorable as it is unprovoking; the use of drag certainly brings a new level to the interactions between characters but this new level doesn't illuminate new interpretations of the characters. The song and dance numbers don't raise this to the level of an actual musical - it's more of a play with a couple of songs chucked in - and while those involved or close to the production and its members might get a kick out of seeing the show, it's doubtful that general audiences will find the same level of pleasure in watching the performers ricochet around.
The camp comes more from the performances than the story , and relies on stereotypes without adding new layers or dimensions to a general audience's understanding of how this seminal show impacted the gay community (or if it did at all).
Reviewer: Rachel Lynn Brody