That Face
Polly Stenham
Orange Tree Theatre
Orange Tree Theatre
–

Listing details and ticket info...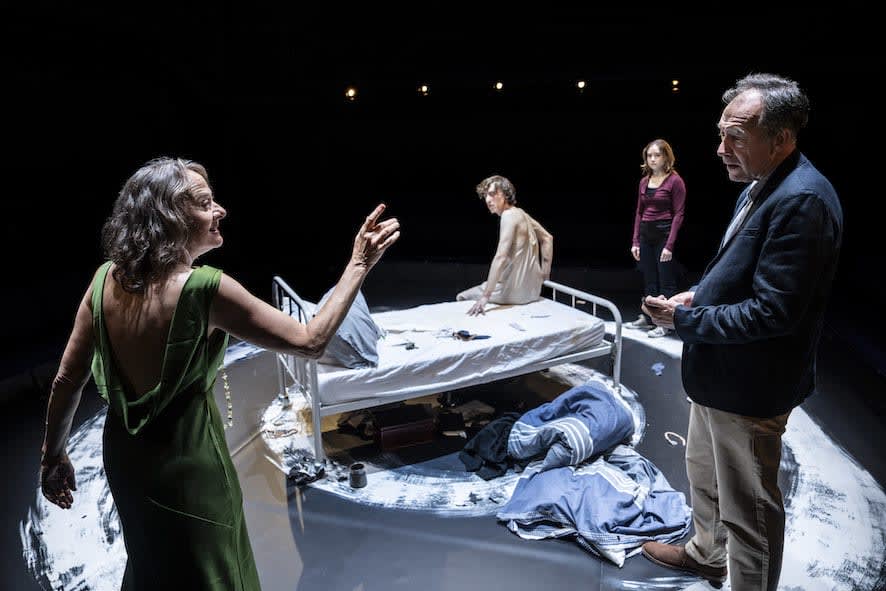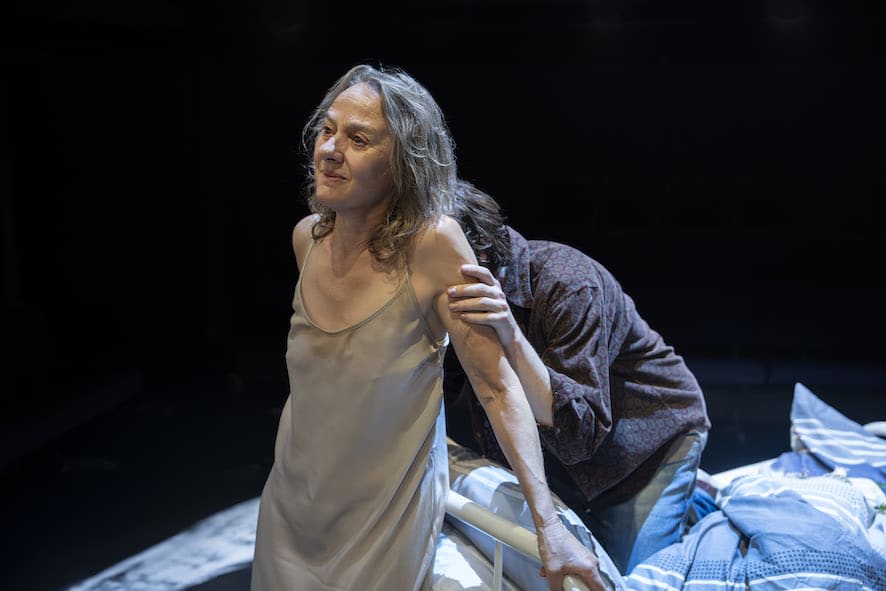 Polly Stenham's debut play, a study of a dysfunctional family and of mental illness amazingly written when she was only 19, here gets its first major London revival since its 2007 première in a production by Josh Seymour that is relentless and vivid.
Eleanor Bull's design places the entire action around a hospital-like bed, its focus emphasised by overhead circles of light. It will become many places and around it will build up a detritus as messy as these people's lives.
At first, that bed is occupied by thirteen-year-old Alice, happily reading and scanning her phone in her new boarding school until she disastrously gets put through some kind of initiation ceremony by fellow pupils Mia (Ruby Stokes) and Izzy (Sarita Gabony). Mia gets expelled, and that brings her father back from halfway around the world, where he is living with his new family, to sort things out. Meanwhile, at home, her mother Martha is struggling with alcohol, drugs and her mental health, while Mia's older brother, Henry, has dropped out from his posh school to in effect become Martha's carer.
The mother-son relationship verges on the incestuous. When he spends a night away with Mia's friend Izzy, she is jealous and leaves a bite on his neck to pair the hickey he came home with.
Their excesses are convincingly played by Niamh Cusack and Kasper Hilton-Hille (he making an impressive professional stage debut). Henry is increasingly out of his depth and desperate as he tries to coax his mother towards stability. She goes wild, cutting his clothing, but is manipulatively aware in her deviousness. Cusack captures it all. It is frightening behaviour, but you can't help admiring her cleverness. How does he come to be wearing her nightdress and jewellery? In the frenetic pace of their interaction, it doesn't even seem surprising.
When father Hugh (Dominic Mafham) turns up, will they stop all the shouting. He seems to think that with his money, he's a deus ex machina. Will Martha kow-tow and go along with his plans and enter a posh place for private treatment or risk being sectioned in an NHS hospital?
No one is a happy bunny in this story, but think how much worse it would be if these people didn't have Hugh's money behind them. That would be even more uncomfortable to watch: uncomfortable but very watchable. At about ninety minutes with no interval, it is a production that is very intense, but it goes at a cracking pace that carries you along with the (literal) swirl of the action. A vibrant revival.
Reviewer: Howard Loxton