That Is Not Who I am
Dave Davidson
Royal Court Theatre
Royal Court Jerwood Theatre Downstairs
–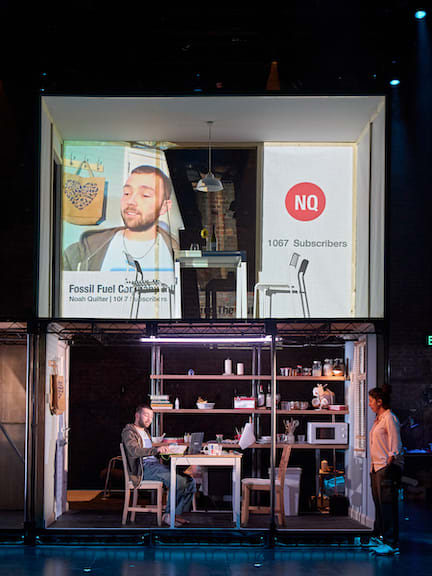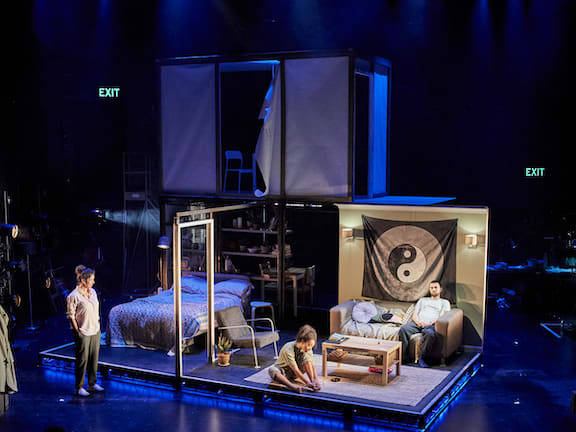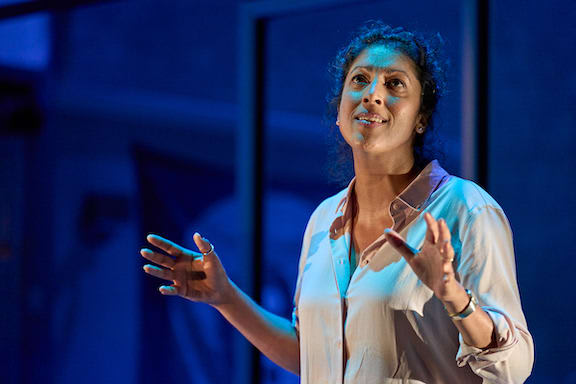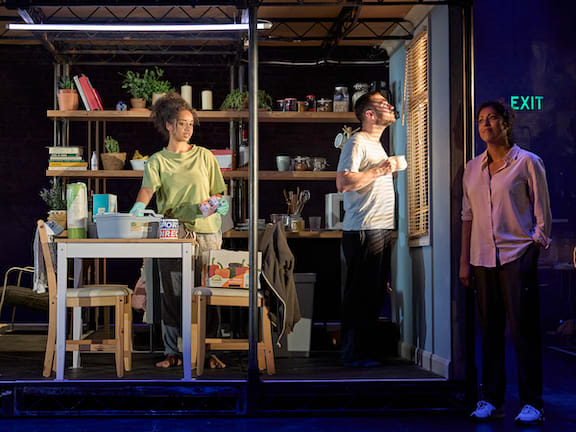 "Nothing is as it seems and nobody is who they are," says the Royal Court in announcing this new play. That's intriguing and true and may seem appropriate in today's world of false news and lies, whether about Brexit economics, starting wars or more petty things like parties. It is a play involving electronic spying on private life and talking the truth on the Internet in a production that claims to defy government embargoes and censorship. Of course it is a fiction; or is it?
A projected array of six monitor screens fills the proscenium as the audience take their seats. One is labelled London. A couple scan back and forth the rest are stationary cameras. It doesn't take long to realise that they are all showing a repeated loop. We are not watching live surveillance. Does this count as reality?
Reviewers were handed scripts in sealed envelopes, not to be opened until the performance was over. If you have booked or are thinking of seeing the play (and it is worth seeing), perhaps this is where you should stop reading.
Celeste and Noah are strangers who meet as contestants on a television reality dating show. He's an ex-soldier, she a nurse with the NHS. Their lies are playful. They hit it off and we follow them over the next couple of years, moving in together, trying for a baby, with little Candy during the pandemic. This is a very contemporary story.
Noah (the name can't be accidentally chosen) starts a vlog that begins to draw masses of viewers. He is strong on ecology and climate change, critical of multinationals, of the system. He and Celeste realise they are under surveillance. They shut down known forms of access while proceeding with a plan to organise action.
It is is a fascinating picture of the way the individual can now use the Internet to make their voice heard and at the same time the power it gives authority to eavesdrop, This alarming look at today's world is also a touching portrayal of a private relationship. It makes you care about this couple who are engaging played by Jake Davies and Siena Kelly.
The action is interspersed with comment from the author (actor Priyanga Burford standing in for the real one), clarifying facts and explaining sources, and in this multi-layer fiction there is an interruption from the actual author (played at some performances by the real real one if you can follow me).
I'll stop there: I've probably told you too much already. It is a contrived piece that lasts non-stop for 1 hour 45 minutes with no interval but it engaged me the whole time. That must owe a lot to director Lucy Morrison, while Naomi Dawson provides a composite set that turns to let us see different parts of the couple's home in intimate detail and moves scenes on smoothly.
The Court's pseudo-secrecy is part of the play. It is there to remind us that this could so easily be fact and it helps make an audience feel more complicit, while such self-conscious metatheatre adds another layer to the cautionary tale actually written by Lucy Kirkwood and called Rapture.
Reviewer: Howard Loxton