That Night Follows Day
Tim Etchells
Forced Entertainment
Purcell Room, Royal Festival Hall, Southbank Centre
–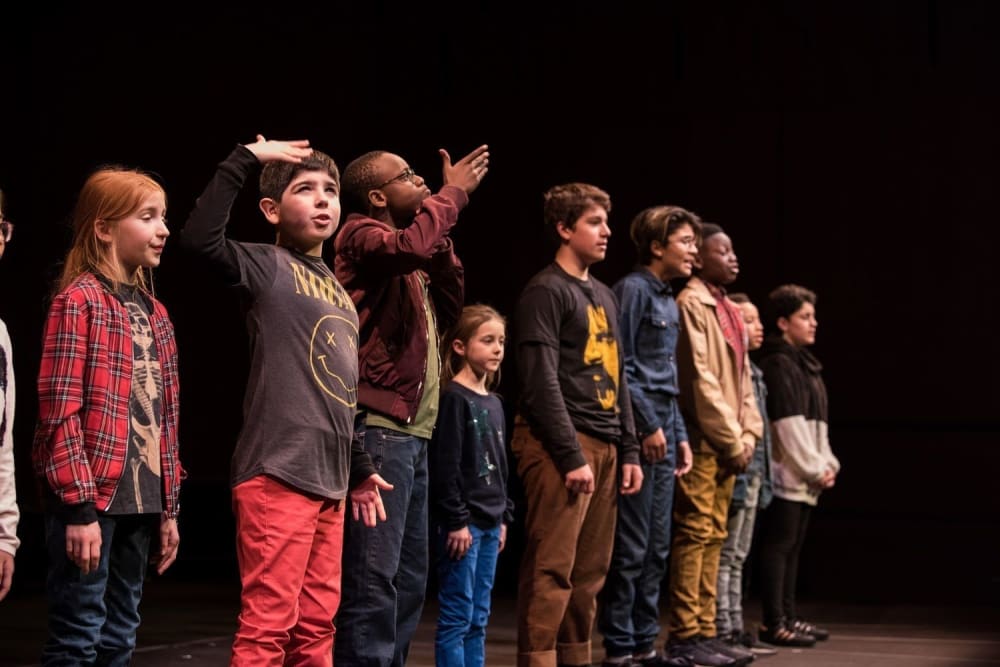 "You feed us. You dress us. You wash us. You tell us to hurry up and get ready for school. You take a quick look through everything written in our WhatsAPP group."
I am a parent. I say and do those things. A few of the gazillion instructions, demands, information we give to children like a tap that never stops dripping, but what are the consequences?
Tim Etchells initially created That Night Follows Day in 2007, for a Belgian-based company to find out how do children feel about the way adults talk to them? While the world has moved on since then in terms of cultural and political references, the question remains the same. How do children absorb all there is to know in order to transition from fledging to fully formed adult?
The results are unsettling in a funny, remorseful, always joyous way. Based on Etchells's writing through workshops with children, the piece challenges any parent to think about the fabrications they weave around their offspring. What are the truths that are lost in translation between an adult brain and a child's? Yet, as the rants unfold, parents are the ones to come out of this performance sounding ridiculous and absurdly out of touch.
Tonight opens with the sound of playground banter pumping out of loudspeakers while a group of children between eight and fifteen approach the front of the stage to form a straight line, a human wall ready to take on the world with words.
The children whisper, talk, shout and scream in short, staccato phrases, clear and simple language with complexities lurking close to the surface. There are few smiles, more often simmering anger, sizing the audience up in confrontational glares. A row of colourful plastic chairs lining the back of the stage offering solace to children after delivering speeches.
Rhythmic chanting sweeps and builds like choral singing, taking on the mantle of an epic poem with all its nuances from lulls to crescendos. The collective often step aside allowing for an individual voice to be heard, carving out personalities in amongst the group. All voices are listened to tonight. Moments of stillness are intentional, where the children appear to be waiting for a signal from one another like an express train pulling into a platform, someone stamps or nods and the chanting continues with chugging pace and lots of repetition.
It's heartening to see young voices small and booming of all heights, colours and creeds embracing a universal mantra despite vast cultural and linguistic difference. The cast is drawn from communities across the capital. And, as they introduce themselves one by one, multiple languages pour out in musical beauty and promoting difference in an era of Brexit uncertainty.
There's also a healthy balance between angry hysteria and genuine comedy, making the performance seriously watchable. In the group, two boys communicate through BSL (British Sign Language) with bang on-comic timing, broadening imagery in the language through expressive signing and movement. The children tell the audience that they are not allowed to swear but the boys certainly can in BSL.
When one girl, chin up high, defiantly announces that, "you take money from our money boxes and promise you will give it back later," I am ready to stand up, guilty, and shout apologies, on behalf of all parents everywhere.
I come away faintly nostalgic, pulled through the wall of words as if in a trance, partly meditative due to the repetition of language, partly because it's like watching my own life as a parent painfully rolled out before me, stripped bare, bold and questioning.
Childhood and parenting is a funny thing. It's beautiful, tough and fleeting, pronounced by many, if not all of these truthful phrases. Clever direction from Etchells and Hester Chillingworth, clear and understated, leaves space for pure and believable performance. Such honesty will stick long after the show fades and long after those talented young performers are tucked up in bed being read a story that they may or may not believe in.
Reviewer: Rachel Nouchi