That Face
Polly Stenham
Sheffield Theatres
Crucible Theatre Studio, Sheffield
(2010)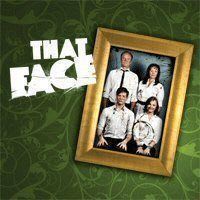 Polly Stenham's intriguing play was first performed at The Royal Court in 2007 when she was 20. The current production, directed by Richard Wilson (One Foot in the Grave, and much more) is the English Regional Premiere of the play.
The play presents a broken family: mother Martha (Frances Barber) is an alcoholic with serious mental health problems; father Hugh (Alistair Petrie) has deserted the family for a new life, new woman and baby in Hong Kong; for five years preceding the action of the play, son Henry, (James Norton) now 18, has assumed the role of prime carer in an effort to prevent his mother from being sectioned; and daughter Mia (Leila Mimmack) is an emotional casualty of the marital break up and her mother's increasingly dysfunctional behaviour.
We meet Mia in the opening scene at her expensive boarding school, when she joins Izzy (Amy Dawson) in an inititation rite performed on a much younger girl, which provides an opportunity for effortless cruelty. Mia's contribution to this procedure leads to the hospitalisation of the terrified girl (Gemma Lise Thornton) and to Mia's imminent expulsion from school. This also precipitates Hugh's hasty return from Hong Kong.
Though the play initially concerns itself with Mia's problems, the main focus of the action is the relationship between Martha and son Henry, which borders on the incestuous, but is probably more complex and subtle than that. An interesting talking point for audiences seeing the play.
The writing is fluent and convincing throughout. Stenham structures her scenes effectively and is particularly adept at finding a strong end line for a scene. The play is rich in visual symbolism. Martha's bed becomes variously a site where Henry is first discovered curled up at her feet like a guard dog; a place where destroyed clothes are hidden; a bridal bed; and a space to be desecrated.
James Cotterill's set works really well. The overhanging skylight suggests an operating theatre. The revolve facilitates scene changes (smooth and silent) with minor adaptations to the fixed structures (windows, curtains, etc.) My only caveat is that Martha's room, and her nightdress, is not mucky enough. (Think Tracey Emin's bed).
There are strong performances throughout, particularly from the young actors. Amy Dawson is horribly believable as the sadistic Izzy, possibly more screwed up than Mia, and not a good advert for boarding school education. Leila Mimmack gives a sincere and thoughtful performance; James Norton is impressive in a complex and difficult part, where the change of clothing also marks some kind of symbolic journey. I was moved by the end of the hospital scene, (good writing) but also an entirely believable performance by Gemma Lise Thornton in a non-speaking part.
In the programme interview, Stenham says of Martha, 'I think making Martha likeable is the key to the story'. Frances Barber gives an excellent performance as Martha: but there are parallels, like Martha in Who's Afraid of Virginia Wolf, Blanche in Street Car, or Mary in Long Day's Journey into Night. These are women who, despite their problems, are allowed to show us their more sensitive, pre-illness personalities. With the exception of a brief scene with Hugh, when this Martha is recalling the early days of the marriage, she is difficult to engage with, because she is so self-obsessed, out of control and oblivious to the problems she's creating. So I didn't find her likeable, but this is more in the writing than the performance.
In his introduction to the play, Daniel Evans (Artistic Director at the Crucible) describes the play as a tragi-comedy. I can just about imagine how, with a more Ortonesque delivery, the play might tip over into farce, but this production was on the serious side, as one might expect from a director renowned for a deadpan comic role.
Running until 24th July 2010
Reviewer: Velda Harris