The Father
Florian Zeller, translated by Christopher Hampton
Theatre Royal Bath, Tricycle Theatre and Simon Friend
Wyndhams Theatre
–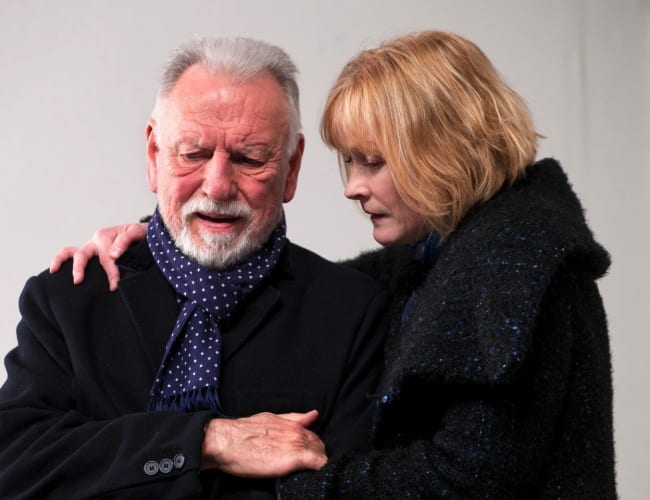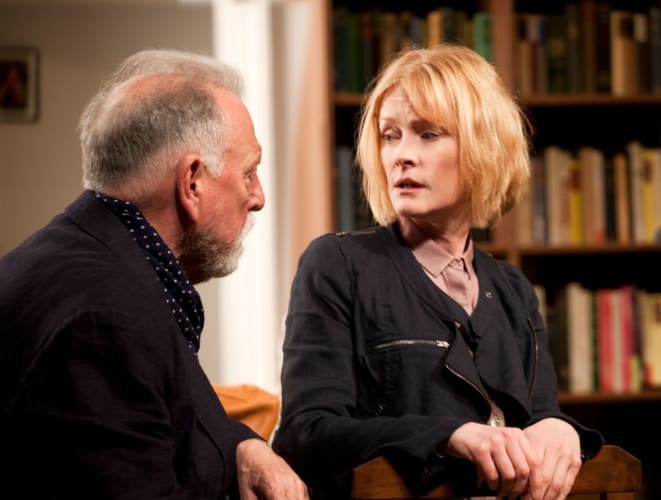 This is a play about Alzheimer's. I know, that sounds depressing and I wouldn't call this a comedy: indeed, it is deadly serious but don't let that put you off because it is not without humour and is absolutely fascinating.
It lasts about 90 minutes without any interval but it holds every minute; even the blackouts between its sometimes brief scenes have their impact. I haven't seen a script so I don't know how much is the writer how much the director James Macdonald, but it is a beautiful piece of theatre and one that gives more sympathetic understanding of what it is like to suffer from Alzheimer's and dementia that any medical journal.
The elegant, simply furnished white room in which designer Miriam Buether sets it is eighty-year-old André's Paris apartment where his daughter Anne is trying to sort out what to do. His carer has just resigned because of his rudeness. The situation is urgent for she plans to go to live with her lover in London.
Or maybe that's wrong. Perhaps this is her flat, that man says he's her husband. And does someone keep stealing André's watch?
This is a play that makes you experience something of the effect of dementia. Its confusions are carefully constructed. You may think that you have sorted out sequence, separated fact from fantasy but as memory fails, confusion increases and points of identification become fewer it becomes increasingly harder.
The increased confusion and reduced cognition are directly reflected in the staging, the piano sonata played between scenes begins to have bigger disruptions like synapses malfunctioning, the flash of white light that frames each blackout not only momentary blinds you, so you don't see the re-set in the darkness, but seems to burn up a bit of the brain.
But it isn't only about dementia; there is a subtle under-text of family history too. Anne, the now dutiful daughter, was always disparaged, her younger sister more loved and preferred. André misses her, why doesn't she keep contact. This new carer looks like her. Or is this other woman her?
He doesn't remember that there was a tragic accident. Reminding him might make things worse. Is Anne as hopeless with men as her father reiterates? Is she with this man or married to that one, blissfully happy in London? There is a back-story certainly, but is it the one anyone's telling today?
Claire Skinner as Anne conveys the tension and conflict in a daughter trying to do the best for a parent and still have her own life, of making allowances for someone who can often be hurtful but perhaps whose illness has changed him from the dad she once knew.
She and Nicholas Gleaves and Jim Sturgeon—the actors playing the men: apparent husband Pierre, lover, doctor, whoever they really are all—have just that antagonistic edge that reflects how André sees them, insecurity breeding distrust so that he thinks everyone against him.
Kirsty Oswald as Laura could be carer, can be more sunny, though her careless condescension sets up antagonism and Rebecca Charles as the other woman or women present facets of both profession efficiency and a caring compassion.
Then there is Kenneth Cranham's André, a moving performance of great subtlety that dominates despite its gentleness because we are watching the tiniest movement, so compelling real is this creation, so likeable and so lost in his striped pyjamas.
Did he really tap dance or work in a circus as he severally says or was he an engineer as his daughter declares? Cranham presents a man who really doesn't know, who is grasping for a memory and goes with what he finds his brain offers, who just wants his mother to take him home.
There were tears in the eyes of some of the first night audience as they gave him a standing ovation. He richly deserved both.
Until this production was first staged last year in Bath (with a different cast supporting Kenneth Cranham), Florian Zeller was hardly known in Britain but he is the winner of several literary awards in France, including the 2014 Prix Molière for this play. Christopher Hampton has already translated his La Verité (The Truth). I look forward to seeing it and more.
Reviewer: Howard Loxton