The Lottery of Love
Pierre Marivaux (translated by John Fowles)
Orange Tree Theatre
–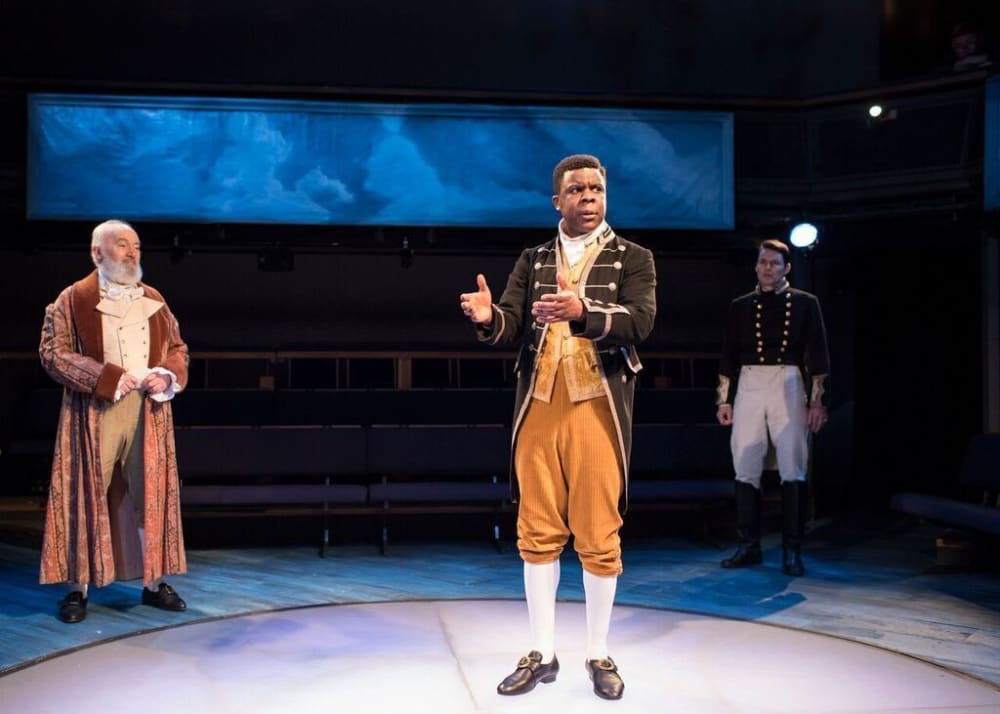 A lively revival of a French classic, this eighteenth century comedy presents a young woman whose father is suggesting a marriage to an eligible young man not yet know to her. A visit has been arranged for Sylvia to size him up and decide if she wants him. She pulls a fast one by deciding to swap places with her servant Louisa (Marivaux's Lisette), so that she can observe him incognito.
What she doesn't know (though her father Morgan / Marivaux's M. Orgon does) is that the young man, Richard / Dorante, has already made an identical decision. He arrives in the guise of his own servant, John Brass / Harlequin, while he plays his master.
French novelist and playwright Pierre Carlet de Chamblain de Marivaux, widely known just by his last name, wrote more than 30 plays of which this is one of the best known. It was first produced in Paris in 1730 as Le Jeu de l'amour et du hasard, and two years later in an English translation at the Little Theatre in the Haymarket. As you might guess from the Harlequin character, it partly draws on the stock characters of the commedia dell' arte and that is reflected in the playing of some of the characters in this production.
In 2003, the Orange Tree presented the play in Lady Mary Wortley Montagu's eighteenth century version entitled Simplicity and other translations include Neil Bartlett's transposition to a 1930s Cowardesque setting. Fowles sets his version a century later than Marivaux in Regency England, a world that Jane Austen's novels so accurately captured. It was given a workshop production in the National Theatre Studio in 1984 but this is its first public presentation.
Marivaux's style earned the name "marivaudage". In his essay on Marivaux in The 100 Greatest Plays, Michael Billington quotes Voltaire's description of it as "the art of weighing flies' eggs on scales made from a spider's web," but in a foreword to this translation Fowles partly counters that accusation, suggesting it was really just his newness and his connection with the Italian comedy that occasioned such criticism. Fowles makes a few cuts and introduces material to take the place of the effect of using formal and informal second person French forms, but this play's lively badinage doesn't seem precious.
The Regency era fits the play's social distinctions and designer Simon Daw dresses it appropriately but with a simple setting of rose stems and tiny candles (that flicker to heighten certain moments) suspended over a grey stone pavement with sky panels on the front of the circle of this in-the-round theatre. This suggests tongue-in-cheek romance and doesn't impose too strict a realism on Paul Miller's production, which mixes a charming naturalism with outrageous caricature.
"I suppose you think marriage is wonderful," Dorothea Myer-Bennett's Sylvia says to her maid, adding "marriage is about minds not bodies," but the play points up the power of instant attraction. She gets increasingly agitated as she tries to match feelings to social position in a natural and endearing performance. Claire Lams's spirited maid Louisa is also played with a natural lightness while Tam Williams's Martin is an amused observer of his sister Sylvia's predicament.
There is a touch of commedia to Pip Donaghy's Mr Morgan. At one point, Louisa declares he's like a "dead cod fish fallen into an ash pit" but, no Pantalone, he's a kindly old fellow. Keir Charles's John Brass, on the other hand, is a grotesque caricature, but hilarious. Disguised as his master, his failed attempt to talk posh and a turn-out that seems more like a maccaroni of a previous era are frankly outrageous. While Louisa can imitate her mistress from keen observation, he is nothing like Richard but a distorted idea of a fashionable fop.
Richard certainly hasn't swapped clothes with his master who is upright and elegant. Sylvia may not find servanthood easy but Ashley Zhangazha's Richard is totally incapable of playing it. "What an extraordinary member of the menial classes," is the ladies' reaction, with a surprise for the audience here too on his first entrance. A Regency servant might be black but rarely his master, but the performance provides a winning piece of colour-blind casting that, along with Charles's extravagance, fits the production's awareness of its theatricality as the audience shares Mr Morgan and his son's amusement at the mess that the others are getting into.
Played without an interval, the audience is kept happily contained in this theatrical bubble but, beneath the fun, The Lottery of Love does question love versus lust and attitudes to romance and social status even though ending up maintaining class divisions.
Reviewer: Howard Loxton