The 39 Steps
Adapted by Patrick Barlow from the novel by John Buchan
Edward Snape and Marilyn Eardley for Fiery Angel Ltd and Tricycle London Productions Ltd in association with West Yorkshire Playhouse
Lyceum Theatre, Sheffield
–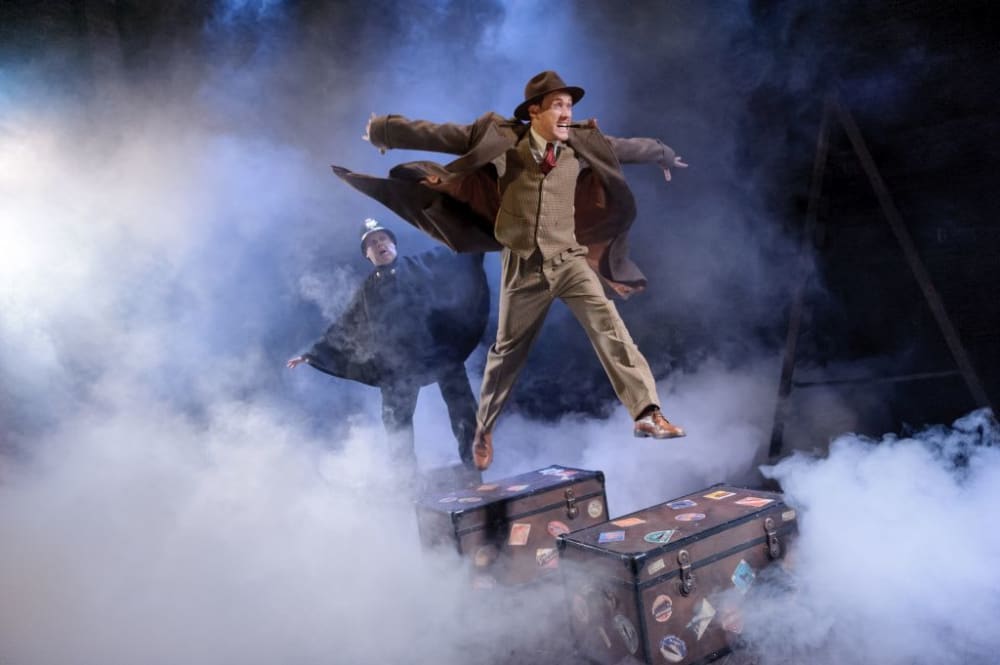 This charming adaptation of John Buchan's 1915 novel has been entertaining audiences nationally and internationally since its first appearance at the Tricycle theatre in 2006.
Writer/adapter Patrick Barlow is probably best known for his two-man National Theatre of Brent which presents huge epics like The Charge of the Light Brigade, Zulu, Wagner's Ring Cycle and much more.
The current production, with a cast of four, is very much in the same vein. The humour of the writing and direction lies in debunking stage conventions by the skilful use of sound and lighting effects, improvised furniture and props and whirlwind changes of costume and character.
The hero of the piece is Richard Hannay, a laid-back, upper class toff in the mould of Bertie Wooster, who inadvertently gets drawn into and foils a fiendish pre-WW2 plot to steal vital technical information.
Hannay is a bumbling pre-Bond gentleman adventurer with time on his hands, an untrained amateur with a passionate belief in Home and Empire, who gets himself in and out of scrapes with courage, quick thinking and a great deal of luck.
Hannay is played by Richard Ede with charm, versatility and very good manners, particularly during his night on the run with Olivia Green, to whom he has become handcuffed.
His escape from the train on the way to Scotland shows the production at its most inventive, with clouds of steam, screeching sound effects and appropriate music accompanying a carriage roof chase, while a quickly improvised bridge allows him to show off his derring do.
Olivia Green plays all the beautiful women in the story in a variety of wigs and costumes. She is a femme fatale as the German spy, an ill-treated but rebellious innocent as the crofter's wife and quite a handful as Hannay's companion in flight.
The style of the production embraces pantomime, including the busty pantomime dame, mime sequences, prat falls, a hat routine and melodramatic deaths. In fact, anything that will raise a laugh.
It falls to Andrew Hodges and Rob Witcomb to play all the other parts in the story. Hodges is excellent as the sinister villain with the partly missing little finger and inexhaustible as a number of pursuing policeman, a Palladium compère and many more quick roles.
Witcomb has the pantomime dame roles. Wigs and costumes, as well as clearly differentiated comic characterisation, allow him to appear as a tweedy Scottish wife and a variety of hotel landladies. Out of drag, he is one of a comic twosome clad in identical macs, as spies, watchers or pursuers.
The minimalist style of the setting adds to the fun. Doors are walked off and on, window frames are held up to peer through and trunks represent the carriages of the moving train. Dry ice is frequently applied to provide steam or the mists from the moors. Sound and lighting are used effectively to create atmosphere or heighten the drama.
Occasionally, the production debunks itself, with a telephone that rings too late or mist that doesn't arrive in time. But this is deliberate and adds to the tongue-in-cheek style of the production.
This is a pleasant, entertaining evening in the theatre, fast-paced and full of fun. Worth catching in Sheffield or on tour.
Reviewer: Velda Harris