The 39 Steps
Adapted by Patrick Barlow from the novel by John Buchan
Fiery Angel and Tricycle London Production
The Wyvern Swindon
–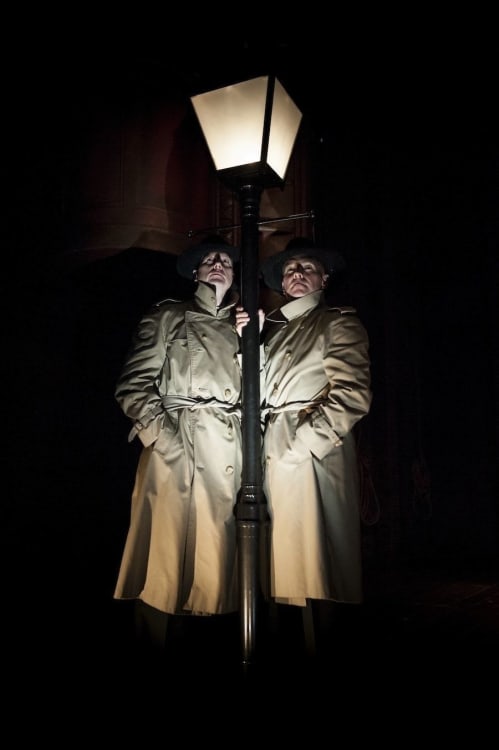 Patrick Barlow's adaption of John Buchan's The 39 Steps at The Wyvern theatre is an absolute hilarious romp through this tongue-in-cheek adventure story told in a film noir style.
The four cast members throw themselves into the yarn with gusto playing myriad characters, all created at a breakneck speed that leaves the audience gasping for breath and laughing out loud at the inventiveness of these talented actors.
Maria Aitken's imaginative direction is strikingly recreated by tour director Lucy Skilbeck which includes shadow puppets, a comic steam train journey from London to Scotland, the stage at the London Palladium, smoke, a plank on ladders that becomes the Forth Bridge, various doors on wheels that are so creatively used and furniture that is thrown on stage, all perfectly timed and cleverly designed by Peter Mcintosh.
Mic Pool's evocative soundscape perfectly captures the period and different scenes and together with Ian Scott's lighting design moves the action with ease.
There were some farcical moments when things deliberately didn't go according to plan that simply heightened the enjoyment of the performance as the actors shared the fun of the mistakes with the audience.
The story's hero Richard Hannay, superbly played by Richard Ede, is wrongly accused of murdering a foreign female spy and flees to Scotland to meet Professor Jordan and find out the secret of the 39 steps, hotly pursued by the police.
Tony Bell and Gary Mackay are most impressive. They play a plethora of roles from Scottish hotel owners, hapless policemen, spies, a memory man and sometimes even playing two characters at the same time, with perfect comic timing, a true joy to watch. Their female characters are uproariously funny.
Charlotte Peters is excellent as Annabella Schmidt and Pamela, Hannay's reluctant 'wife' who becomes embroiled in the adventure. There is a lovely interpretation of Margaret, the shy crofter's wife who helps him escape through the window.
The cast must be totally exhausted by the end of the performance as the pace is fast and furious. The 39 Steps is two hours of madcap fun that richly deserved the enthusiastic applause from a very happy Swindon audience.
A really nice touch was a collaboration between The Wyvern Theatre and Swindon Libraries to give away free of charge 2,000 copies of the book to theatregoers.
Touring until July.
Reviewer: Robin Strapp