The 4th Country
Kate Reid
Plain Heroines and Park Theatre
Park Theatre (Park 90)
–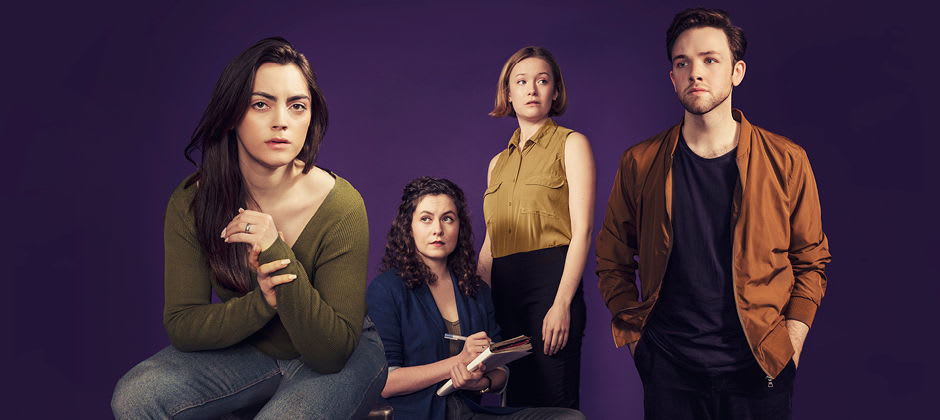 In a government office in Northern Ireland in 2019, a civil servant is explaining to a new intern that they've had to run things since the government shut down. With awkward news breaking, it is now up to them to run the damage limitation exercise. It is not easy to know what has happened (heavy accents and delivery at breakneck speed make some of the dialogue impenetrable) but things are brought to a halt anyway by an interruption from a member of the audience who turns out to be part of the story insisting that it be told properly.
This is a play in which the actors become a brother and sister, Connor (Cormac Elliott) and Niamh (Rachael Rooney), reconstructing their own story with Connor frequently wanting to rewrite it—if only they could rewrite the real history.
The 4th Country tackles themes that are very serious: abortion law (changed since when the play is set, but still influencing attitudes) and violence, in particular the shooting of innocent protestors by the army, made an even more personal problem when Conor discovers his English lawyer girlfriend has been briefed to defend a soldier charged with the shooting.
When the play premièred at the Vaults Festival of 2020 it was well received, including by BTG's reviewer, but the telling now needs greater clarity in its delivery. There is plenty of projection, but it just needs to slow down and to remember its audience here isn't used to the accent. Director Gabriella Bird gets committed performances from her cast but they need to be understood.
Reviewer: Howard Loxton