The A-Z of Mrs P
Book by Diane Samuels, music and lyrics by Gwyneth Herbert
Neil Marcus with Paul Tyrer & Jamie Clark for The Booking Office
Southwark Playhouse
–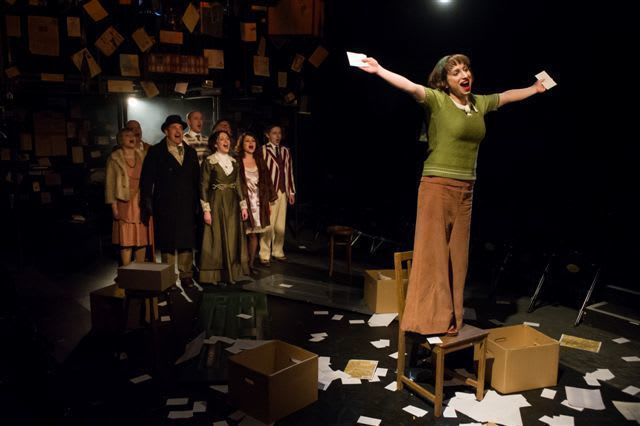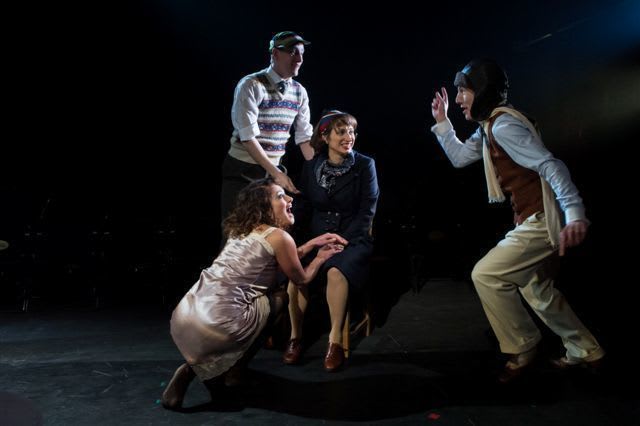 The A-Z street map of London may be a vital piece of equipment for every Londoner who wants to find their way around town, but who would think that the making of it would prove the subject for a musical?
Well, producer Neil Marcus did and found himself first a composer-lyricist and then a book writer to create it. They haven't done a bad job either. It is unlikely it will make it to Broadway but with Sam Buntrock's direction and some talented performers it makes an intriguing and lively evening.
It calls itself a "musical fable", though it is based on the autobiography of its central character, Phyllis Pearsall, who claimed to have been the first to produce an indexed atlas of London streets which she spent years pounding the streets of city and suburbs to create. However, it seems there was already a predecessor from another firm and how her version for her father's Geographia firm was created has also been contested.
What's fantasy and what's fact maybe doesn't matter for this is a musical celebration of persistence. If Mrs Pearsall may have invented some of her story, the home truths about her dysfunctional family, rather than careful cartography, are what fuel this musical.
It starts off with an exit: Mrs P suddenly abandoning her husband in Venice, a note popped back through the door on her departure. The show's chorus and a hatbox become the locomotive of the train that eventually gets her back to London. Hardly original, I know, but they do it well and it sets the style.
This is a traverse set production in which a couple of different coloured doors and a couple of light bulbs are the only scenery apart from the multitude of objects designer Klara Zieglerova has hanging overhead, from paper model houses to street signs, shop signs, chairs, post cards and theatre programmes, a telephone and traveller's luggage, all possibly tied in some way to Phyllis's story. Phillippa Batt's costumes, like the storyline, range from late Edwardian through to the 1960s, all jumbled together.
In London, Phyllis finds others in her parents' home and her brother, fellow (but more famous) artist Anthony, house-full and occupied with a new baby. She's on her own. Her father, Sandor Gross, went bankrupt. He scarpered to New York and from there he starts to send his daughter telegrams that goad her into action. Others, like her, can't find their way around. they need help. she has to make it. She puts aside her painting and starts pacing the streets.
This musical is pretty well through-composed and there have already been some lively numbers but now, and this is what makes the musical more interesting, we get back-story and the rest is a mix of memory and moving on. The romantic start of her parents' marriage, childhood joys, terrible accidents, matrimonial breakdown, madness are all woven among the gathering of her data, assembly of her company and getting her A-Z on the market.
At first, Phyllis Pearson seems like one of those shrill, scatty, spoiled girls one can't stand but Isy Suttie gives her a spirit that soon wins you over and gets you on her side, especially when you see father Sandor Gross's self-obsessed rages. Michael Matus makes him magnificently awful; it's hardly surprising Frances Ruffelle's once-lovely mother is driven to madness, always asking for the horse that she never had.
There's another lovely performance from Sidney Livingstone as Mr Fountain, the A-Z's avuncular draughtsman. Ian Caddick keeps popping up as taxi man, bus driver or bringing a telegram, a delightful good penny with the same tagline. Stuart Matthew Price takes a bit of a back seat as Phyllis's brother Tony, but lends his voice to what is already a high standard of singing. Sarah Earnshaw manages to be an elegant posh traveller a rather seductive restaurant proprietor in the same dress, and Dawn Sievewright and Max Gallagher double other roles with being on the A-Z staff.
The music is varied and tuneful, the lyrics lively and every word clearly sung. Gwyneth Herbert writes songs that feel like conversation and the vocal line doesn't have to compete with the band (which is excellent) under Steve Ridley as musical director.
This is not a spectacular musical breakthrough but Herbert (who won the 2010 Stiles and Drew Award for "Lovely London Town") is someone to look out for and Diane Samuels (whose Kindertransport is another prizewinner) has found a clever treatment for a difficult subject. Between them, they have provided opportunities for some polished performances.
Reviewer: Howard Loxton