The Actor's Nightmare
Christopher Durang
3 hearts canvas and Over Here Theatre Company in association with Park Theatre
Park Theatre (Park 90)
–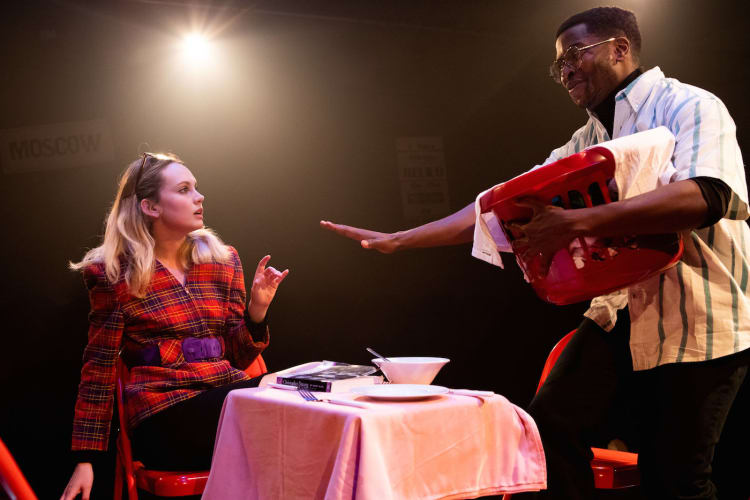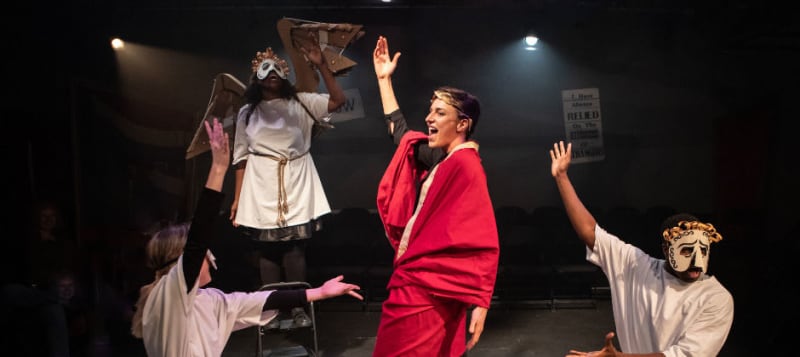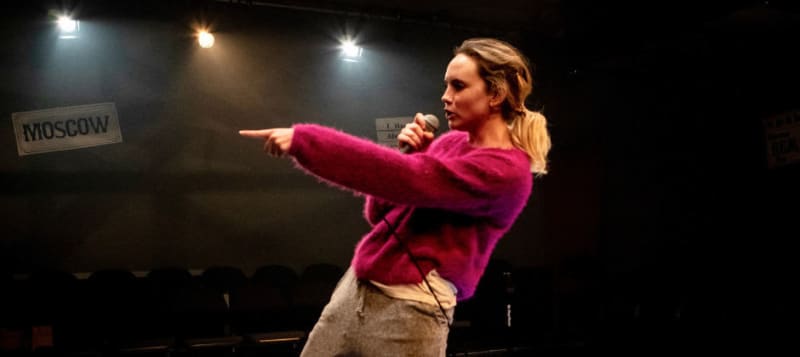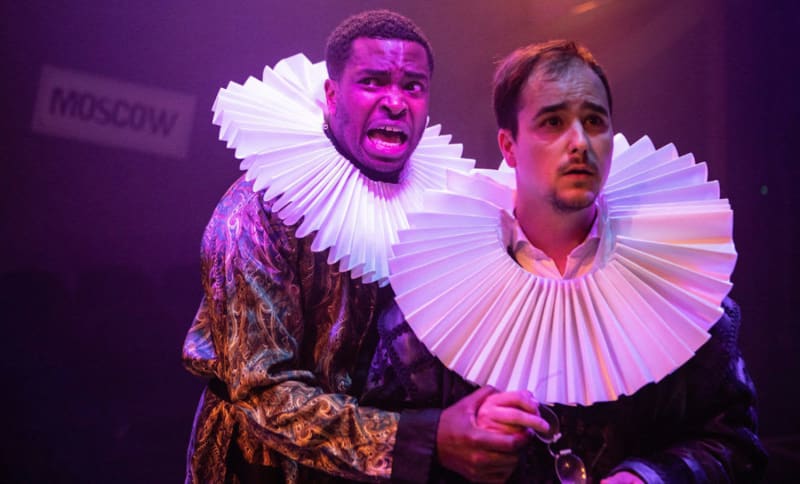 The Actor's Nightmare is only one of six short plays by Tony Award winner Christopher Durang that are presented in continuous sequence using it as a portmanteau title. They are all quite short (only 90 minutes in total) in the style of revue sketches that cock a snook at theatre academics, show artistic aims set against commercial concepts, satirise production clichés and set audiences a test on the width of their play-going experience. Some of it works and some of it doesn't.
Anna Driftmier's design is already a satirical comment: played in-the-round, she provides a patterned parquet floor intercut with strips of light with over which hang a series of angled pictures with door-like frames and red velvet hangings set in the auditorium corners hang to hint at prosceniums, cockleshell footlights from an earlier age edging the playing space to underline that.
It kicks off with the monologue Mrs Sorken. In fact Mrs Sorken isn't a pro academic but an amateur making her debut at speaking in public. "I've come," she announces, "to talk to you about theatre," but she has forgotten her notes so has to extemporise as she delves into the etymology of theatre, which of course leads to the Greeks. She notes that Dionysos ends in SOS, the distress call—perhaps she needs help with her understanding of Shakespeare. Kate Sumpter does an excellent job in creating the character but has a hard time trying to make the puerile text funny but thankfully it is a very short piece.
Business Lunch at the Russian Tea Room introduces a dramatist doing his laundry when he gets a phone call from his agent (physical gag with a landline phone buried under his washing). There is a meeting set up with a Hollywood script development person. Waiters lay a tablecloth over the laundry basket (typical of the fluid flow of Lydia Parker's direction). We're there with Meaghan Martin's Melissa inviting Adrian Richards's Eric to take on a story of a priest and a rabbi who become a gay couple. I won't spoil it by giving the details of how it develops and he gets out of it.
Medea starts off with Kate Sumpter as an actress boasting about her training and introducing a presentation of The Trojan Women that somehow gets subverted and becomes Medea. (Brownie points to those who realise what is happening.) It is a very routine send-up of the most stereotypical approach to Greek tragedy that is rescued by the energetic playing of Sumpter and her colleagues.
Woman, Stand-Up presents Meaghan Martin (incidentally, though known through film and TV, making her stage debut) as a struggling comedy stand-up whose act is bombing and who makes constant appeals to the sound man to play her recorded laugh track. It is confusing: is this supposed to be a TV recording or a live show? Is Durang satirising performers used to being recorded then edited? In the context of the other plays, is this supposed to be funny or poignant? I think Martin is playing it for poignancy, but the audience is expecting to laugh.
Desire, Desire, Desire is (you guessed already?) a satire on Streetcar, with Layo-Christina Akinlude a far from frail Blanche du Bois and Adrian Richards as a distraught Stanley calling for a Stella who left him six years ago. The lad selling magazine subscriptions may capture Blanche's attention but it is Stanley we see in a clinch with him, which isn't so surprising for the piece segues into Cat on a Hot Tin Roof and it is Blanche "For Whom The Southern Belle Tolls" (which is also the title of another Durang treatment of The Glass Menagerie not here included).
The proverbial actor's nightmare is said to be finding yourself in a costume you don't recognize in a play you don't know and probably in your underwear and that is exactly what is presented in the title play The Actor's Nightmare, with the addition that the character called George doesn't remember being an actor but thinks he's an accountant, when Kate Sumpter's stage manager tells him Edwin Booth is off and he's going on.
Stefan Menaul is beautifully bewildered as George. His other dream company colleagues are named for Sir Henry Irving, Sarah Siddons and Ellen Terry and a reference to Mrs Patrick Campbell playing the maid, but this isn't an attempt to guy period acting, except perhaps when he finds himself at curtain-up being asked whose yacht that is they can see from the balcony. Yes, you've got it: Private Lives and that is surely an unaccredited Gertrude Lawrence with the long cigarette holder, though the audience have been told it is Siddons going on for Sarah Bernhard.
George has been dressed for Hamlet but struggles to match Coward's dialogue until Irving enters as Horatio and Shakespeare starts to take over with George lifting lines from all over the canon as he ad libs until we find it is suddenly Beckett and they are stuck in Endgame's dustbins before a switch to A Man For All Seasons.
Serious theatre buffs will have fun identifying characters and plays and recognizing lines, and not just in this last play; whether it will be funny to others is a big question. Mixing plays up is hardly a new idea and Durang's pastiches aren't exceptional. Individually, these short pieces might seem more effective; together they don't seem to aspire to very much but cast and direction (with movement input from Meaghan Martin and Adrian Richards) add energy and some rollicking choreography that takes it to a different level.
If you have read this far you'll know whether this show might be right for you.
Reviewer: Howard Loxton