The Addams Family
Music and lyrics Andrew Lippa Book Marshall Brickman and Rick Elice
Royal Conservatoire of Scotland
Assembly Hall
–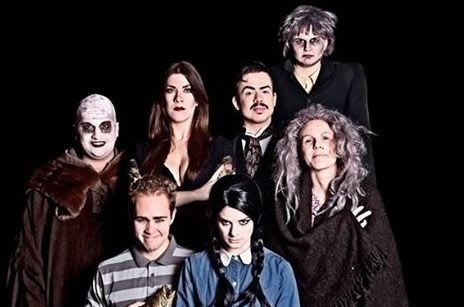 The Royal Conservatoire of Scotland is celebrating 10 years at the Fringe with the UK premiere of the exuberant wicked musical The Addams Family.
The splendid, atmospheric, spooky set perfectly creates the mood of the Addams' bizarre, grotesque home and is beautifully lit and superbly costumed.
This is a vivacious production from these highly talented MA students, who perform with such assurance that you might think this was a professional London West End show and with such high production standards it certainly is worthy of such a title.
The family are a true eclectic mix of characters. Martin Murphy excels as the Spanish head of the household, Gomez, who would never lie to his wife, Morticia, an impressive performance from Suzanne Boreed.
When crossbow shooting, Wednesday (Sarah Haddath) falls in love with Lucas (Curtis Brown) and the two families are set on a collision course as they agree to meet for dinner with some surprising and chaotic results.
Youngest son Pugsley (Thomas Putman) is scared of losing his sister and her torturing games with him and devises a devilish plan to embarrass Wednesday.
Crazy grandmother (Sheena Bernett) is into her potions and Uncle Fester (Andrew Perry) is in love with the moon.
Completing this outlandish family is the butler, Lurch, a stoned-faced performance from Megan Juniper.
The Beinke family have no idea what is in store for them when they visit. Tyler Smith makes a splendid Colonel Mal and Hannah Howie is a superb Alice, who loses her inhibitions and reveals much more than she would like to having drunk from the drugged chalice.
There is excellent support from the large group of Ancestors who are an ever-present group observing the action.
Both the singing and acting are excellent and the slick choreography (Chris Stuart-Wilson) is inventive and fun.
Astutely directed by Ken Alexander with a superb band that provides a rich orchestral support under Zach Flis fine direction, this is a tremendous, outstanding production.
I left the theatre thinking I'd like to see that show again. It's selling out fast so don't miss out.
Reviewer: Robin Strapp