The Addams Family
Marshall Brickman, Rick Elice and Andrew Lippa
Aria Entertainments and Music and Lyrics
Sheffield Lyceum
–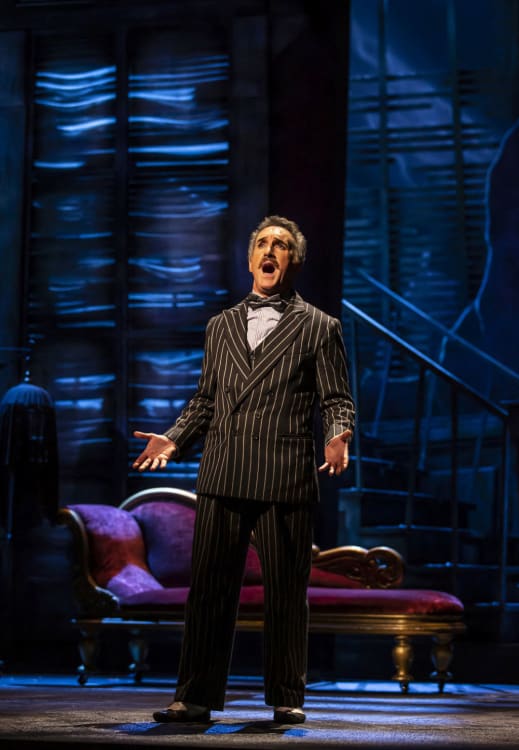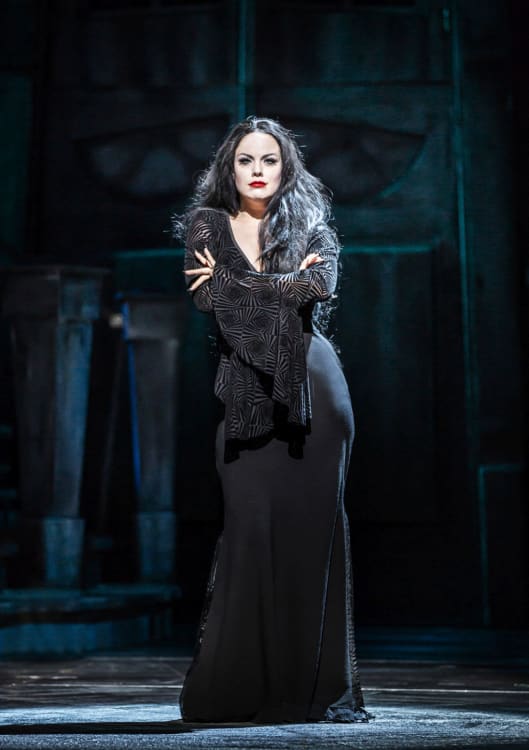 The performance starts with a bang, a loud clap of thunder and lightning flashes, and we are introduced to the Addams family in its grisly variety in a rousing opening number which sets the tone for the evening. The quality of singing from the whole cast is full-voiced with rich harmonies and there is effective and ample support from the small orchestra.
Wednesday, the Addams's charmlesss and sadistic daughter, has fallen in love with a 'normal' boy and intends to marry him whatever her parents might do to stop her. Lucas Beineke is equally entranced and the young couple plan a dinner when the two sets of parents can meet.
There is resistance on both sides but Morticia agrees to the meal on the condition that they play a family truth game called Full Disclosure. This has disastrous consequences for the relationship between Gomez and Morticia and even more so for the relationship between Mal and Alice Beineke.
In the course of the action, we become better acquainted with the Addams family. Son Pugsley is a masochist who takes pleasure in torture on the rack and other delights that Wednesday serves up for him which he will miss if she marries.
We meet the extended family, a procession of ghosts who occupy the family vault and are let out on special occasions. The family servant Lurch can only move at a snail's pace and communicates by growling, until he surprises us at the end of the show.
There are notable performances from Cameron Blakely as Gomez, who has excellent comic timing as well as a strong singing voice, and Joanne Clifton is an elegant Morticia whose pale face looks suitably drained of blood and is complemented by her flowing black hair.
Kara Lane as Alice Beineke effectively handles two parts in one, and Scott Paige (Uncle Fester) is particularly entertaining in the "Moon and Me" sequence. Kingsley Morton has a formidable stage presence and a powerful voice to go with it.
The members of the ensemble enrich the production with their full-throated singing and effective dance routines and Matthew Ives stepped up to give a convincing performance as Lucas on the evening I saw the show.
Diego Pitarch's gloomy set is an appropriate setting for the action and highly adaptable. We see different spaces in the building, including the rack room, a long staircase, which has a variety of uses, and the horizontally placed dining table, which is an ideal setting for the controversial dinner party. Costume is most exciting when the extended family emerge from the vault and display themselves one by one. They have clearly been there for a long time since they wear clothes that are reminiscent of Nero's Rome, Elizabeth's England and other significant historical periods.
Musical supervisor and orchestrator Richard Beadle together with musical director Bob Broad, serve up a rich diet of sound in solos, choral singing and orchestral accompaniment while Alistair David's choreography is effective in a relatively limited space. Director Matthew White draws the whole together with immaculate precision.
This is a thoroughly enjoyable evening in the theatre and such a pleasure to be witnessing a live performance.
Reviewer: Velda Harris