The Adventures of Pinocchio
Carlo Collodi, adapted by Matt Borgatti, music and lyrics by Mary Erskine and Will Dollard
Cornerstone and Goblin Theatre
Cornerstone Theatre, Didcot
–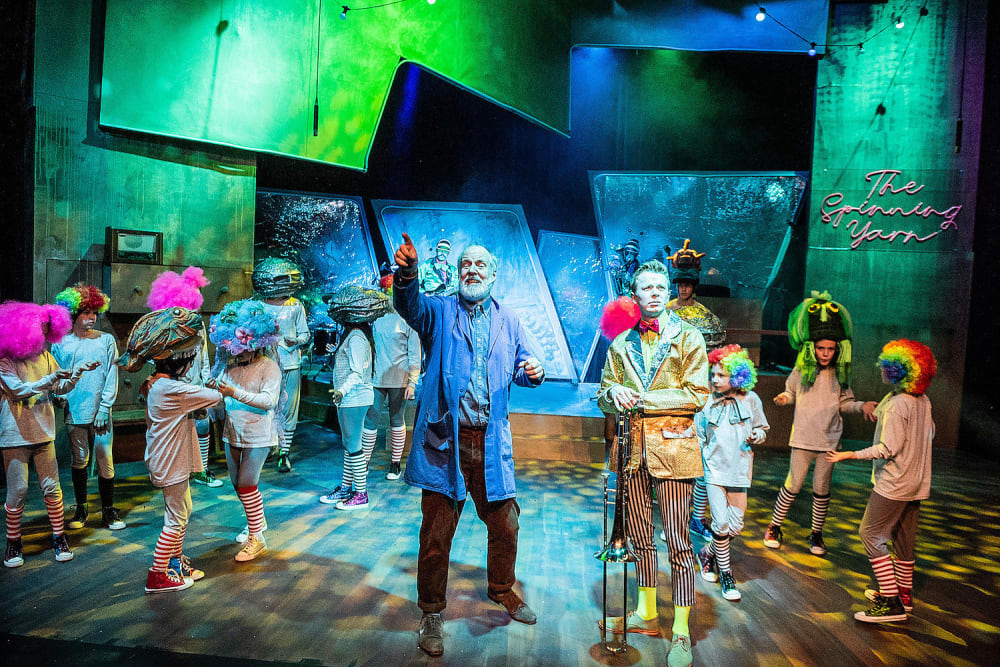 The Cornerstone Arts Centre in Didcot is a delightful venue that is firmly based in the local community with a wide programme of events from classes for all to exhibitions and of course its vibrant performance programme.
Its Christmas show this year is a refreshingly modern adaption of The Adventures of Pinocchio based on the original story by Carlo Collodi and written by Matt Borgatti with music and witty lyrics by Mary Erskine and Will Dollard and it's tremendous fun. Florence McHugh's funky set of differently shaped panels with neon lights designed by Luke John Emmett running around the edges creates an electrifying atmosphere.
So welcome to the Spinning Yarn Storytelling Bar, where an enthusiastic group of youngsters (one of three teams) are sitting around cabaret-style tables as Blues Fairy (Lil Davis) and her band The Crickets, under the capable musical direction of Matt Heslop, are about to tell the much-loved story of Pinocchio.
We meet the lonely carpenter Gepetto, a superb performance by Barry Shannon, who longs to be loved and have someone to love him back. He creates Pinocchio from a block of wood, a cheeky, mischievous performance from Indigo Griffiths, who embarks on a great adventure discovering his new human world. But things don't go well for Pinocchio as he shops for food without paying for the goods and poor Gepetto takes the blame and is sent to prison.
Pinocchio encounters the cunning, sly fox (Jason Ryall) who leads him astray and swindles him, much to the angst of the audience. When Gepetto is finally released from gaol, he goes in search of Pinocchio but the wicked fox sends him in the wrong direction. He ends up in a boat on a raging sea and is swallowed by a whale. Cue the "fish-cotheque" disco with the "sole sisters" and all the youngsters partying in an energetic dance routine with much humour.
There is a hilarious escapade into Santa's wonderland with the song "Christmas Everyday" where Pinocchio tries to save the poor turkeys. Thankfully, Gepetto and Pinocchio are eventually reunited and the bond between parent and child grows ever stronger.
This is a heart-warming, enchanting production performed by five impressive actor-musicians who play an amazing number of instruments. Director Kate McGregor has created a magical family show that is highly enjoyable.
Reviewer: Robin Strapp