The Adventures of Robin Hood in Cooksonville
Graeme Thompson and Ray Spencer
The Customs House
The Customs House, South Shields
–

Listing details and ticket info...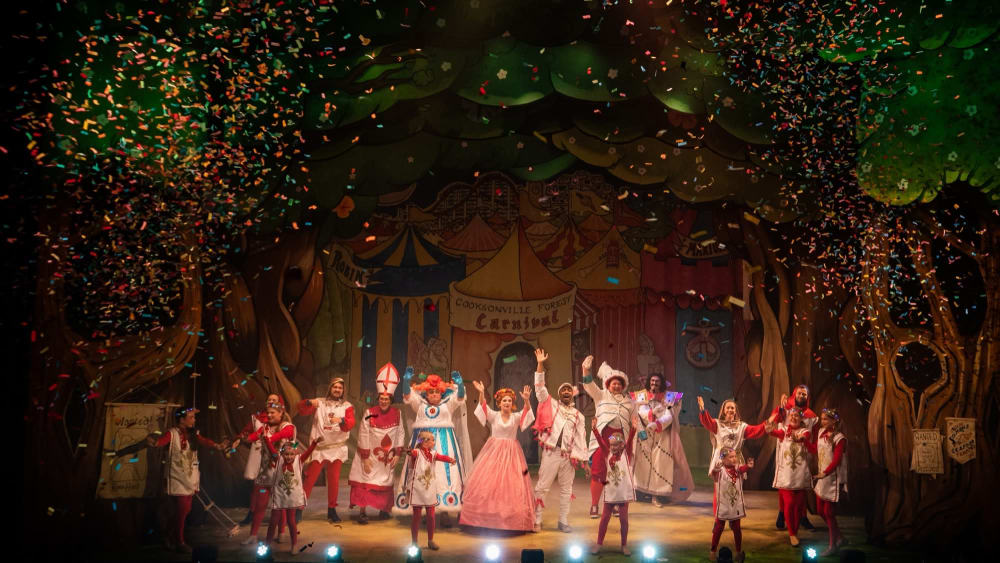 It's that time of year again, oh yes it is, and where better to begin the festive season than The Customs House? It is said that "things aren't like they used to be", but that does not apply here, as this theatre still produces a traditional panto in the truest sense.
From the first moment when the theatre explodes with bright lights and joyous music, quickly followed by Robin Hood entering, you know you are at a pantomime. Marcquelle Ward, playing Robin, is no stranger to panto and engages the audience from the off, swiftly followed by Arbuthnot, Davey Hopper, who immediately has the audience in the palm of his hand. Eheeeeeee echoes round the auditorium as Arbuthnot's mam, the long-standing indomitable favourite Dame Bella Ballcock, appears, as in Ray Spencer.
We all know the story: evil Sheriff, played by talented favourite Steven Lee Hamilton, terrorises and robs the community, with his henchmen, Scatter Brain, Susie Barrett in her first panto, and Feather Brain, played by the recently graduated Kieron Michael. Two more 'thugs' are played by Andrew Borthwick and Rebecca Withers, both in their fourth panto. The Sheriff aims to have the feisty Maid Marian, in her first panto, as his wife. Marian, having none of this, flees to the forest to be with her true love Robin and join his merry 'friends'—it is 2022!
As for 'friends', Alfie Joey plays the merry men, yes all of them. He handles the roles with ease; his vast experience as radio presenter, comic, writer, actor and impressionist certainly shows. Joey is also production designer and costume designer, which part, from the wild colourful eccentric costumes customarily associated with panto and excluding the Sheriff, Dame and Arbuthnot, opts for a more sedate style in woodland hues of gold and green, fitting the setting. The reason for the dancers to be basically in bland white with red and blue escapes one, apart from being patriotic.
Writers Spencer and Thompson yet again have delivered the goods: sound, solid panto with all the traditional ingredients, music in the capable hands of MD Dave Bintley, dancing choreographed by Jacqui West, lots of comedy for the kids and adults, audience participation part of every scene, slapstick, oh yes and a slop scene to top any you have seen. A great show with a great script, actors up to the task and all in the capable hands of director Spencer and associate director Natasha Haws, a recipe for success.
While known as the little panto with the big heart, do not be fooled, this panto is all one should be and more; as for heart, it overflows. The production is dedicated to the greatly missed writer, author of It's behind You! The Story of Panto, director and friend (and BTG founder) Peter Lathan—one hopes his spirit was in attendance as he would be very proud.
Do not be 'hoodwinked' into missing this show; book your tickets now while there are still a few left and go have a great night in true panto style, the best way to begin the Christmas season—the packed appreciative audience certainly thought so.
Reviewer: Anna Ambelez