The Adventures of Pinocchio
Adapted by Robin Benfield and Simon Slater
The Watermill Theatre Company
The Watermill Theatre, Newbury
–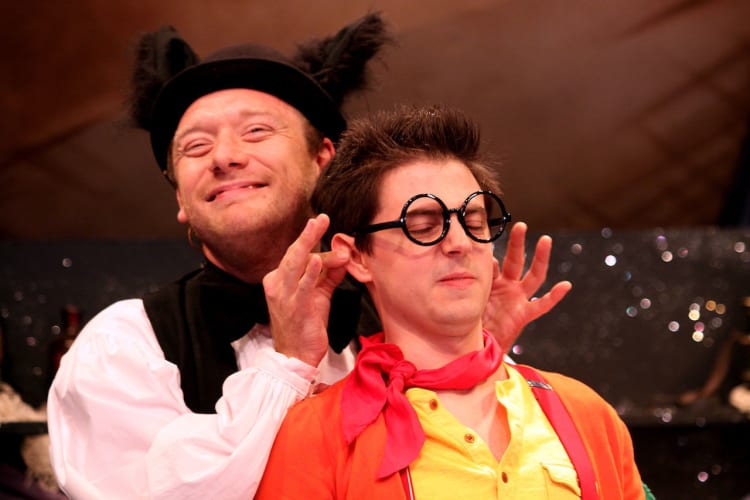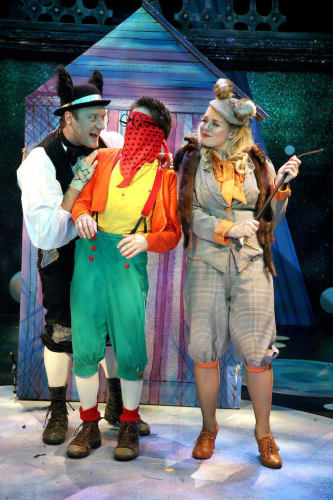 The Watermill Theatre's magical Christmas show Pinocchio, based on the endearing Italian story by Carlo Collodi, is lovingly adapted by Robin Belfield and Simon Slater and is the perfect alternative to the traditional pantomime.
Excited children accompanied by their parents and grandparents waited in eager anticipation for the start of this delightful show and they were not disappointed since Pinocchio is an absolutely spellbinding theatrical treat.
Karen McKeown's colourful set provides the charming background and cleverly creates the various scenes with many unexpected surprises.
The story of the mischievous puppet, Pinocchio, who doesn't want to go to school or work but just wants to have fun and be an adventurer is well known. His problem is, no matter how hard he tries to be good, he keeps telling fibs and each time he does his nose grows bigger and bigger.
When he runs away from his father, he encounters unforeseen exploits on his quest to become a real boy but he must learn to be courageous, honest and kind-hearted as, "good things happen to good people".
Jack Blumenau is excellent as the wayward Pinocchio, perfectly catching the infectious mischievousness of the child.
His long-suffering carpenter father Geppetto, the splendid Tomm Coles, is distraught with worry as he searches everywhere for his lost son.
Thankfully, Pinocchio has a friendly cricket (Ian Harris) who looks after him and makes sure he doesn't get into too much trouble.
Sarah Applewood is the sly fox and, together with Morgan Philpott as the cat, she tries to trick Pinocchio and swindle him out of his five gold coins as he ventures to find the "meadow of miracles."
On his way, Pinocchio discovers the Blue Fairy (Gabrielle Douglas) who tries to care for poor Pinocchio.
The six actor-musicians perform with an abundance of energy and total commitment and play 15 instruments and over 25 other characters including some winsome rabbits as this moral tale of truth versus dishonesty unfolds.
The children in the audience were totally captivated; in fact one young child in the front row was so enthralled that he helped Pinocchio find the hidden coins that led to some improvised audience participation, great fun from a responsive and sensitive actor.
Inventively directed by Robin Belfield with catchy songs from Simon Slater, this is the ideal family Christmas show. One of the repeated catchphrases used is, "everything sounds better in Italian," so a thoroughly deserved bravo bravissimo!.
Reviewer: Robin Strapp