The Afflicted
Jake Jeppson
groupwork
Summerhall
–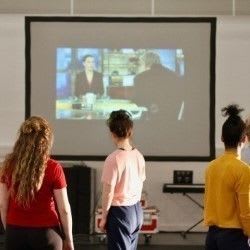 There's a moment early in groupwork's The Afflicted where the play deliberately name-checks Carol Morley's 2014 film The Falling. That film, itself a re-working of The Crucible set in a 1960s school, features the same titular affliction, a spate of convulsive fainting fits amongst a group of teenage girls. What's notable is that in doing so, it heads off any potential accusations of copying with a knowing wink, but also alludes to the heavy influences on this play. It's a smart move allowing the audience to invest in the experience and allowing any feelings of familiarity to wash over them, rather than jar them out of the action.
The Afflicted tells the story of a journalist heading to the fictional American town of Hope River to discover the answers to a mystery, that being what happened to the four girls who began to suffer from fits, convulsive ticks and mutism which then spread across the campus in the early 2010s, but all mention of it vanished from social media shortly afterwards. What follows is part documentary, part mock town history TV special and interspersed with dance and physical theatre. There are myriad nods to previous works; combining shades of The Laramie Project, Picnic at Hanging Rock, the aforementioned The Crucible and The Falling, but alternated with scenes on a projected screen that feel like footage from a cheap cable network true crime series.
The onstage action is performed admirably by Olivia Barrowclough, Felixe Forde, Grace Gibson and Amy Kennedy, whose overlapping voices and frenetic dancing create an ever-changing whirlwind of emotion that underpins the story being told, spinning and stomping and using a set of school chairs to varied use throughout. Admittedly some of the moments and scenes do go on a fraction longer than they probably ought to, diluting the power of what's being seen. It's not a big problem, especially when the ever-changing narrative spins stories as far back as pilgrim era tales of Hope River, right up to the modern event in question.
It's a play that isn't offering answers, merely questions, although like the influences, these come from many sources. While tantalising threads of Flint-esque water contaminants and corrupted soil are dangled, there is a heavy theme of persecution and disbelief of women in this town and the world at large, as well as the perils of social media. It's a thrumming and intense experience, if one that lacks complete originality and could stand a little judicious trimming down, but certainly one that deserves attention and applause.
Reviewer: Graeme Strachan