The All Male Pirates of Penzance
W S Gilbert and Arthur Sullivan
Regan De Wynter in association with Hilary A Williams
Yvonne Arnaud Theatre, Guildford
–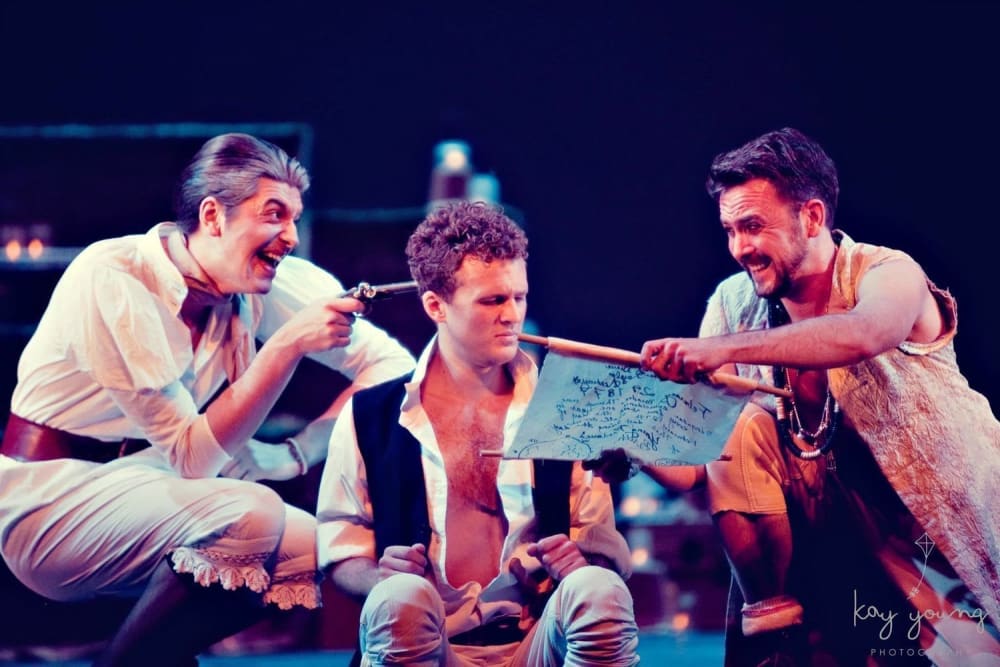 Amazingly, this company began life in 2009 in a 50-seat theatre under a railway arch in Southwark but there was something about its very original production of Pirates that really appealed, and it went on to perform in sell-out shows at Wilton's Music Hall and the Hackney Empire before embarking on a major national tour of Australia.
Now touring the UK for the first time, its surprising take on the well-loved Gilbert and Sullivan classic might not suit the purists, and the idea of an all-male company could bring thoughts of drag acts and expectations of gender based jokes. Nothing could be further from the truth—read on.
The second title of this comic opera is The Slave of Duty, and it is the English sense of duty which keeps orphaned Frederic as an apprentice on a pirate ship in spite of a mistake being made in his application, a mix-up between pilot and pirate. He is apprenticed until his 21st birthday. Pity he was born on 29 February.
The mistake was made by nursemaid Ruth, played so convincingly by Alex Weatherill that my guest for the evening refused to believe that this was a man. He also played with great comic ingenuity, adding immensely to the fun.
The whole show is played out in a set so minimalist that it seems incidental, but thanks to the expert performances there's no strain on the imagination at all, but what a surprise when a group of gigging girls traipse gaily down the aisles all attired in petticoats and pantaloons, and a few minutes earlier they had been part of the band of pirates.
There is however no suggestion of drag acts or of gender jokes. They play the girls truthfully with all the little quirks and mannerisms of the sex, each one with a different character. Nothing is over-emphasised, but the feelings of each one are all perfectly conveyed, especially when they come across a group of rough seamen. They must have studied a lot of women for a very long time.
It is here that our hero meets Alan Richardson's sweet and innocent Mabel and they both fall instantly in love. The high-pitched voices of the 'girls' must be a strain on male vocal cords, and how much more so while singing, but Richardson's falsetto blends very nicely with that of Samuel Nunn's Frederic, and Miles Western can use his own voice as the 'horse' riding Major General.
Just as well with the complicated, famous and much-parodied patter song, and I also have to mention the Pirate King played by Neil Moors as a man with whom it would be wise not to trifle, until his soft heart for orphans is revealed. In fact performances across the board are excellent.
Lizzi Gee's choreography is brilliantly inventive, exuberant and hilariously funny, most particularly so in the dance of the cowardly policemen, all hiding under the most ridiculous moustaches.
The thought of a single piano accompanying the whole show could also have been off-putting, but it fitted in perfectly with the concept and David Griffiths played faultlessly and seemingly tirelessly throughout all twenty-eight musical numbers.
An absolute jewel of a show—funny, surprising, inventive, and still keeping the wit and comedy of the original intact. Don't miss it!
Reviewer: Sheila Connor