The Anarchist
Karina Wiedman
Woven Voice and Jermyn Street Theatre
Jermyn Street Theatre
–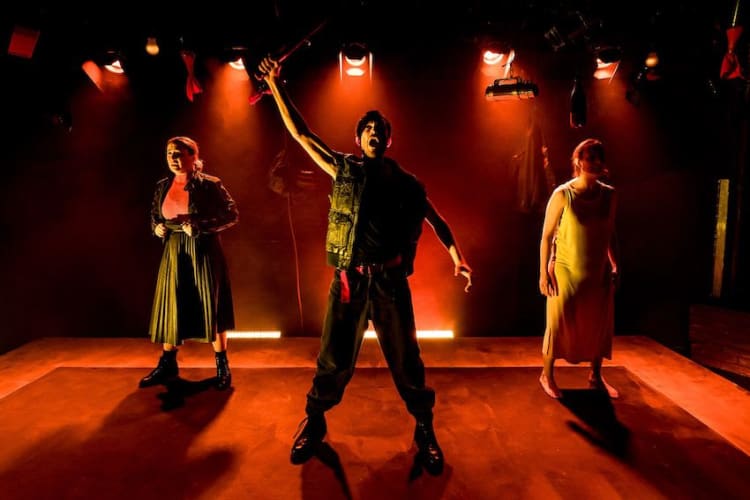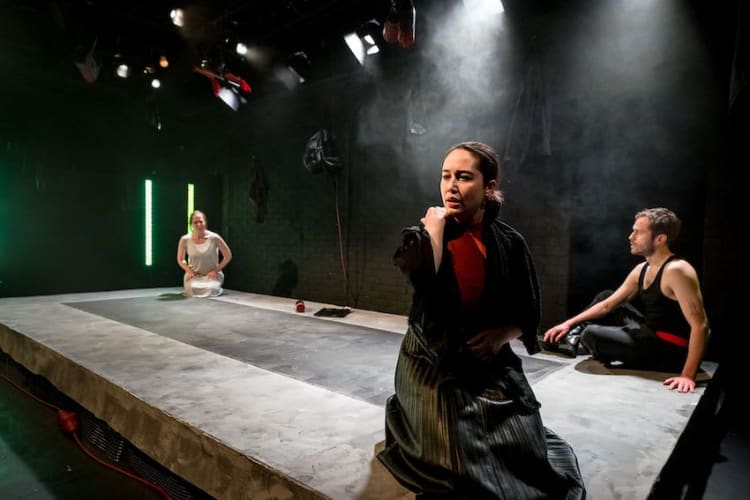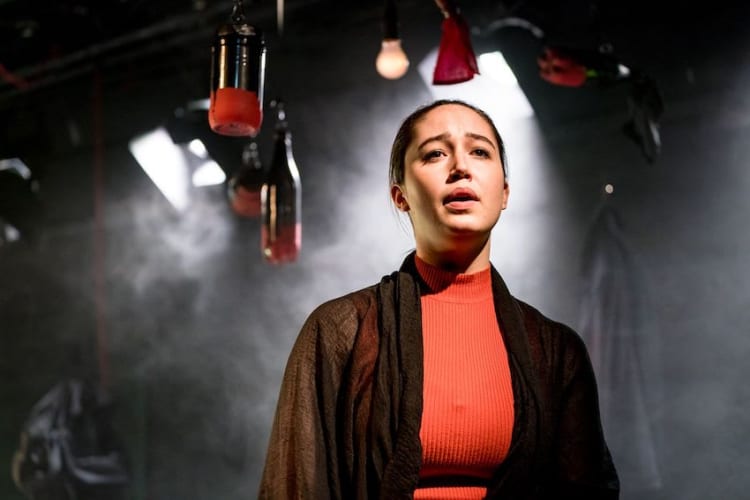 Lead play in Jermyn Street's Footprints Festival, The Anarchist was the winner of the Woven Voices Prize for migrant playwrights. It is essentially an 80-minute monologue in which Scarlett Brookes as middle-aged, menopausal, middle-management Belarusian Dasha is joined by Elisabeth Snegir and Ojan Genc when involvement of other characters is needed.
Action is described more often than acted out or reflected in stylised movement that expresses the feeling behind it, developed in conjunction with director Ebenezer Bamgboye by two movement directors: Adi Gortier snd Sacha Plaige.
Dasha addresses the audience directly, at first from the middle of a nightmare, reliving a violent scene with her father in her early childhood. On waking, she recounts in the present tense a day during the 2020 Belarusian Presidential election: the eve of the announcement of the results. Will Alexander Lukashenko stay in power or will this be the end of his authoritarian rule?
There is little doubt of the outcome. "What if it's him again?" asks postman Petya delivering the mail, but it's a foregone conclusion. Petya has already been drinking to help him handle it, but he has brought hope for Dasha: an immigrant visa and a green card: escape to America if she can get out before Lukashenko closes the borders.
We are with Dasha as she takes the tram into work at the Minsk Automobile Plant, a skivvy for her boss (who hates the West but wears Versace). He's aware of workers joining the anti-Lukasheno protesters, worries that they will go on strike. He insists she sacks all the rebels before they can take action.
Meanwhile, she finds there is one flight from Minsk to JFK tonight, going via Frankfurt; but how will she pay for it? Will she make it? There's a digital clock clicking down overhead: it's a countdown.
Six hours to go. We race through them, not in real time. Props are grabbed from overhead to speed things: the package with her passport, bottles and batons, they are what we are told, not what they look like.
This is a turning point: how did Dasha get here? She looks back on life, remembering in instant flashback. There is piercing her own ear at thirteen (lot of blood), the drug that eased her mother's secret hurts, granny's home-made vodka. There is first sex with Ruslan, picked up in the park. In his biker jacket and Levis, he smells of leather, petrol and cigarettes.
On the radio in the present, she hears politician Zhenya supporting Lukashenko. She knew him as Joe, her lover, the anarchist who taught her to make a Molotov cocktail, the father of the child she didn't give birth to.
The production dives adroitly between past and present, Snegir and Genc becoming multiple other characters as well as Joe and fellow anarchist Katya from schooldays. Scarlett Brookes switching between older and young self sustains the suspense and all three work well together.
The Anarchist doesn't promote a political argument but it is a picture of protest against what you know instinctively is wrong. In flashback, Joe describes these anarchists a being "not just some gang of bandits or vandals. We are both a political and spiritual community. We're punks, hippies, top students with honour and gold medals… But we protest with every inch of our skin… we will abolish totalitarianism!"
Karina Wiedman's play puts you on their side, but is there another subtext? She repeats that opening nightmare. Dasha never saw Ruslan again. What happened with Joe? Who injured Dasha's mother? Even if against totalitarianism in public life, where is equality of the sexes?
Reviewer: Howard Loxton