The Anatomy of Melancholy
Robert Burton
Stan's Cafe
Oval House Theatre
–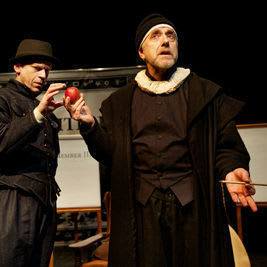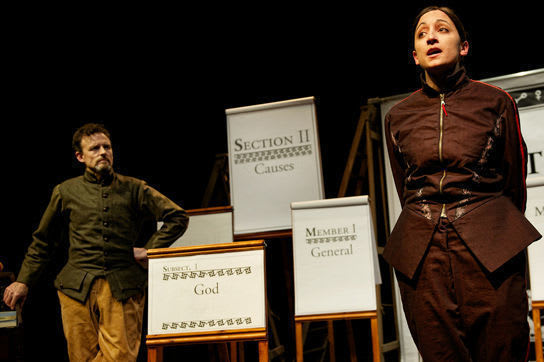 Robert Burton was a parish priest and librarian of Christ Church College Oxford who published The Anatomy of Melancholy in 1621.
In it, he drew upon what all the disciplines of the day had to say about the subject from medicine to astronomy and theology, from the writings of the ancients to the ideas of his own time to deal with (as the book's full title lists) What it is: With all the Kinds, Causes, Symptomes, Prognostickes, and Several Cures of it… Philosophically, Medicinally, Historically, Opened and Cut Up.
Burton identifies himself in his introduction as Democritus Junior and declares, "I write of melancholy by being busy to avoid melancholy". Perhaps that is also as good a reason as any for a reader, or an audience, to explore this arcane wisdom.
But why on earth present it on the stage? Well, this was a challenge set the Stan's Café company more than ten years ago by Belgrade playwright and festival director Nenad Prokic, who declared it to be his favourite book. Since the 1621 edition ran to more than 900 pages and 353,369 words (and Burton went on adding more until his death so that it grew to 516,384) that was indeed a challenge but fortunately Stan's Café has not tried to keep every word.
With Gerard Bell in clerical garb as "Democritus Junior" assisted by Rochi Rampal, Craig Stephens and Graeme Rose in seventeenth century doublets with modern touches, they split the text between them in a condensed version that trims things down to 2 hours 40 minutes, including interval. It says a great deal for their lively presentation that the time goes quickly.
With the text passed rapidly from one speaker to another, a few snatches of music with Graeme Rose on lute, flip board titles serving as a kind of seventeenth century Powerpoint and acted-out episodes such as purges (from both ends) to add extra comedy, they make things bounce along, their skill as performers giving life to Burton's sometimes satiric text.
Translations are held up when Burton quotes Latin tags, the author being quoted similarly named in what becomes a sort of running gag, anatomical details pop up in the right place when needed. Archaic ideas jostle with concepts that still hold good today.
The four actors, who themselves devised the show together with director James Yarker, have done a terrific job in creating it. Set, props and costumes (Harry Tow and Kay Wilton) are a clever mix of ancient and modern, and Simon Ford has come up with some clever graphics that range from elegant typography to anatomical dissections and beautiful botanical paintings all looking lovely under Nigel Edwards's rich lighting.
I admit to about two minutes when the repetition of rhythms and concepts did make it seem too long, but then, with presenters rapidly flipping over topic titles without discoursing on them or at one point Democritus Junior urging his fellows further on, Craig Stevens tearing page after page out of his script in an effort to catch up, you can't help but be a little indulgent.
Robert Burton's lengthy treatise has not just been made palatable but given with an ebullient enthusiasm that you can't help but enjoy. And I now know the gist of it without having to read all the 15,000 pages to which it runs in a modern edition—though it does make me want to dip into it.
Reviewer: Howard Loxton