The Animal Kingdom
Ruby Thomas
Hampstead Downstairs / Celia Atkin
Hampstead Theatre
–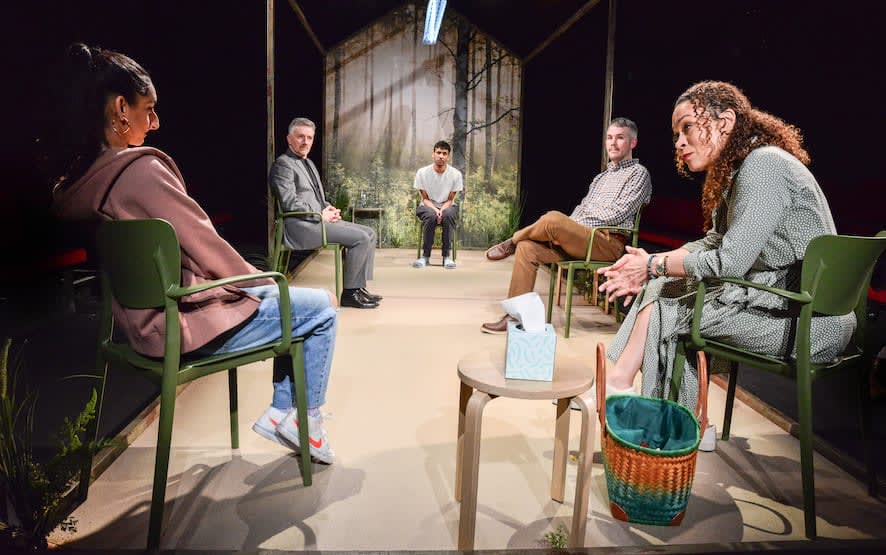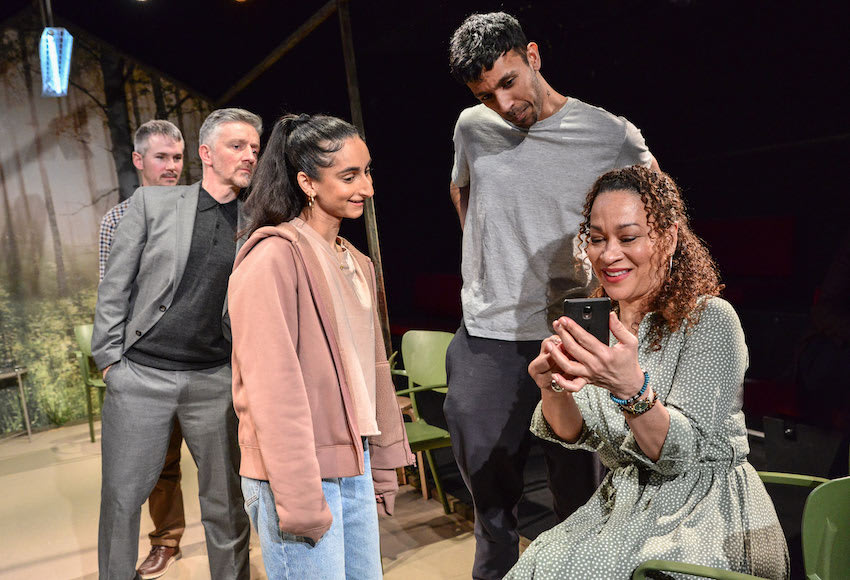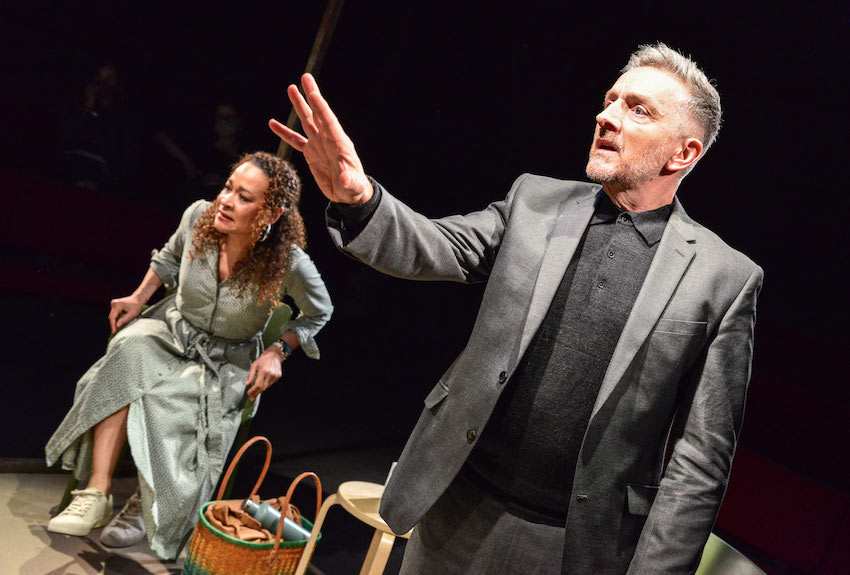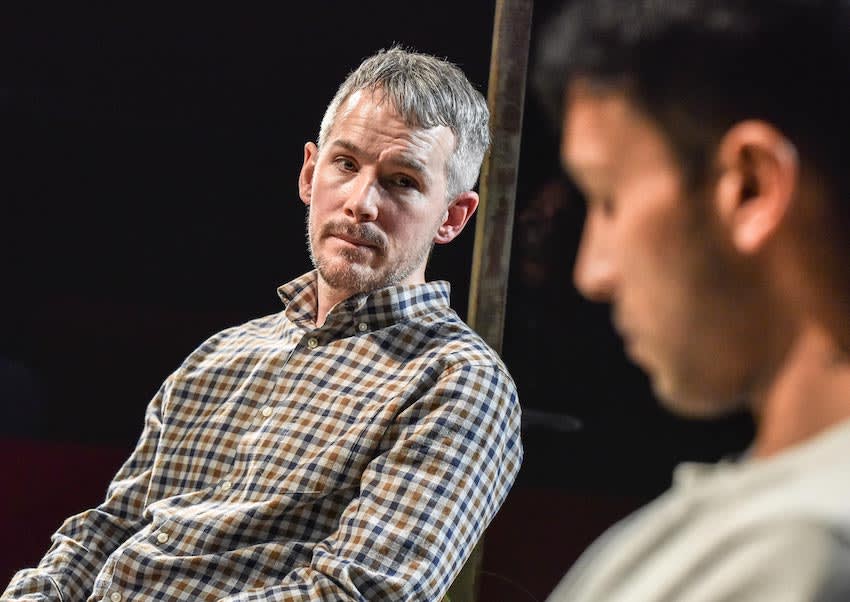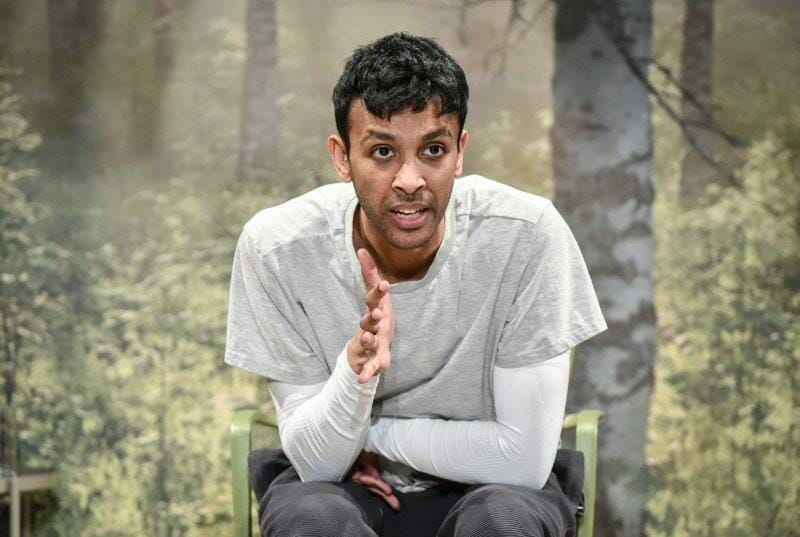 Set in an in-patient clinic where a depressed young man is being treated, Ruby Thomas's new play takes the form of six family therapy sessions on which the audience eavesdrop. With the audience on three sides in Hampstead's intimate studio theatre, this is up-close and very personal as therapist Daniel coaxes the members of Sam's family to share facts and feelings.
They meet in a room where the windows don't open and a two-way mirror on one wall allows unseen observers to witness what happens there, though as they meet for their very first session, Daniel assures Sam that there is nobody watching. Naomi Dawson's setting, box-like, outlines its perimeters, its containment a cross between privacy and constraint, fluorescent lights overhead contrast with a woodland image of the natural world where Sam might find comfort.
Sam and Daniel are alone, the family late in arriving. Sam isn't being responsive. He's a vegan, keen on nature, especially birds. When Daniel gets him to talk, it's about the ones outside his window. He thinks they are swifts, a species whose mother birds sometimes push their eggs out of the nest because they can't feed them. This is a play in which everything is relevant.
When the family arrive, they are embarrassed and awkward. Sister Sofia and father Tim very reticent, divorce has especially distanced his dad, while his mother Rita too readily puts her oar in.
Though his parents may be estranged, Sam has a comfortable background with a private education, his father paying his university fees and for his treatment here. Being queer isn't a problem either, so what was it that led to self-harming and attempted suicide?
As opinions are shared and questions asked, you find assessments and judgements keep changing. What happens over six sessions is packed into 90 minutes; a flicker of light change marks a jump forward in the same meeting, a more major change the time lapse between sessions. It is a format that makes its careful structure seem natural, allowing each member of the family to have their moment of focus. Lucy Morrison's direction shapes this beautifully and she draws sensitive performances from the whole cast.
Paul Keating's Daniel is the calm therapist, in contrast to the family whose contributions he is trying to encourage. Zoology student Sam calls them all bonobos, "pretty aggressive" like those endangered apes, but we see much more than that.
Martina Laird gives us a Rita too ready to come to conclusions, who needs to listen, but you can believe her love for her son to be genuine, especially as she reveals her own fears. As repressed ex-husband Tim, Jonathan McGuinness, his twitching a mark of his tension, at last reveals the warmth he has hidden and Ashna Rabheru, whose Sofia seems at first to ironically distance herself, delivers the girl's account of her own trauma with passion.
Ragevan Vasan captures Sam's fluctuations of mood moment by moment from morose silence to furniture-throwing anger with a natural spontaneity that never seems over-theatrical leaving us with a young man in control now but aware he could lose it.
The Animal Kingdom is Ruby Thomas's second play (the first was Either, also at Hampstead Downstairs). It's a piece of sensitive writing served by an engaging production. She has commissions in progress: watch out for her next play.
Reviewer: Howard Loxton