The Antiscians

The Apricity Project
Greenside @ Royal Terrace
–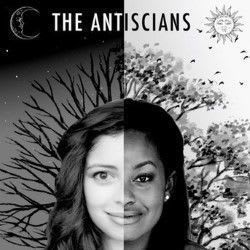 In a strange and different time and place, two girls are being raised in the lands of Laird Watho, one a mighty huntress, who trains and kills the beasts and fowl by day, and another locked in a tower of the castle, awake only by night. Through happenstance, the pair's paths cross and the reasons behind Watho's strange rules concerning their upbringing threaten to come to light.
Drawing inspiration from the George MacDonald story The Day Boy and the Night Girl, The Antiscians repurposes the concept to weave a fable about the need to set aside differences and embrace the fundamental differences between people.
In this version of the fairy tale, the two girls form a friendship rather than the romance of the original tale and Watho, who was a witch in the original story, is instead an embittered ruler, plagued by a supernatural lupine affliction that causes him to rage uncontrollably.
To aid him in raising these girls apart, never to meet nor each to see the opposing half of a day or night, he enlists a pair of fey spirits, Ausra and Falca, who tend to their charges and soothe his bestial fits as best they can, all of which is sweetened by the presence of a mysterious chorus figure, who dances and sings as she narrates.
The 6-strong cast weave a modern fable that never feels like it's beating you over the head with the message but manages to still make you feel something for the characters in this whimsical and tempting tale of friendship, fear, love, and loss. The only downside of the piece, which draws poetry, song and dance into the mixture of the storytelling, is that the end lacks a pinning and, instead of reaching a finality, ends on a note of ambiguity, which although poignant, fails to satisfy what has up until that point been a wholly enthralling experience.
Reviewer: Graeme Strachan