The Art of Concealment: The Life of Terence Rattigan
Giles Cole
Jermyn Street Theatre
–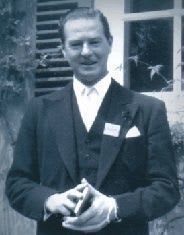 Today, Terence Rattigan (1911-1977) is firmly back in favour and his best plays, such as The Winslow Boy (1946), The Browning Version (1948) and The Deep Blue Sea (1952), are regularly revived. It was not always so. For twenty years (beginning in 1936 with French Without Tears) Rattigan had been Britain's most successful playwright, his craftsmanship and emotional restraint admired by public and critics alike; but with the arrival of the angry young men at the Royal Court in 1956, the 45-year-old suddenly found himself out of fashion and reviled. Unlike Noël Coward, he did not live to see his renaissance and he died at the early age of 66.
The centenary of his birth was much celebrated in 2011. The outstanding revival was Trevor Nunn's production of Flare Path, the 1942 wartime propaganda tribute to bomber command, which had a wonderful performance by Sheridan Smith. Rattigan, who had served as an air gunner in World War 2, knew at first hand what he was writing about. The British stiff upper lip, which has been so often parodied, was absolutely accurate then and it was spot on, too, in his screenplay for the 1945 film, The Way to the Stars, another characteristic piece of understatement.
Cause Celebre (1977), the recreation of the notorious 1935 Alma Rattenbury murder case, was successfully revived at the Old Vic with Anne-Marie Duff. There was even a premiere of Less Than Kind (the first draft of Love in Idleness before Alfred Lunt and Lynn Fontanne got their hands on it in 1944) at Jermyn Street. I had hoped the Chichester double bill of Rattigan's The Browning Version and David Hare's South Downs would transfer to London.
There were revivals of The Deep Blue Sea on stage and screen. The Terence Davies film was more Davies than Rattigan and miscast in two out of three leading roles. It is a pity that since he had already ruined the play that he did not go the full hog and direct instead the context which had given the play its inspiration—namely, the suicide of Rattigan's ex-lover, the 30-year old Kenneth Morgan in 1949.
There were also two plays about his homosexual life: Nicholas Wright's Rattigan's Nijinsky at Chichester and Giles Cole's The Art of Concealment at Brighton. Cole's play has the older Rattigan, dying of leukaemia, looking back on his life and career and acting as narrator whilst his younger successful self, suave, aloof, cold, holds court with his young male lovers and his highly camp and bitchy friends.
Rattigan defined Le vice anglais as the English refusal to admit their emotions. He was used to concealing his homosexuality because he lived in an era when homosexuality, even between consenting adults in private, was an offence and gays, if caught, were liable to go to prison. (The arrest of John Gielgud in 1953 for importuning must have concentrated the minds of many gays in and out of the profession.) In constant danger of blackmail and exposure, he was careful to safeguard his reputation and lived a life of disguise (as eligible bachelor) and kept his male lovers out of sight.
The second play of the two one-act plays, which make up Separate Tables, has been revived with the text as it was originally written, with the ex-officer accused of importuning young men. In 1954, if it had not been changed to importuning women, it would have been banned by the Lord Chamberlain and would have had to be performed in a club theatre. I am surprised nobody has thought of reviving Variation on a Theme with a male actor in the role created by Margaret Leighton. Had this variation on La Dame aux Camelias been played by a male in 1958 it might have got a better press.
Knight Mantell's production of The Act of Concealment is well cast. Alistair Findlay plays the older Rattigan, vulnerable and bitter, obsessed with failure, writing angry letters to Kenneth Tynan, the critic who did most damage to his career. Dominic Tighe plays his younger self, the confident, rich playboy playwright, who kept himself and his lovers in their place, firmly in the closet.
Daniel Bayle and Charlie Hollway are cast as the young lovers. Christopher Morgan plays the theatre critic, T C Worsley, a loyal friend. The other gay character, a crude and unpleasant bitch, is an amalgam of many people and played by Graham Pountney.
Judy Buxton plays two roles: Rattigan's mother (from whom he kept his homosexuality hidden) and Aunt Edna, the fictional character he invented (to much derision) to represent his typical nice, respectable, middle-class, middle-aged audience for whom he wrote.
Reviewer: Robert Tanitch